Posted: Friday, May 13th, 2011 by Gaelyn Whitley Keith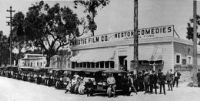 It was a chance meeting with David Horsley that changed the dynamics of the world. How did Whitley know that this Industry in its infancy would be so powerful? Others would try but Whitley was able to convince the majority of directors, producers and stars to settle in his new town Hollywood. On October 26, 2011 be sure to be part of this historic 100th anniversary of the first Hollywood Studio filming in Hollywood. The movie was filmed at the Whitley Estate on the corner of Hollywood Boulevard and Whitley Avenue.
Read more: Whitley's Hollywood – What would it be without him?????
Posted: Tuesday, March 29th, 2011 by Gaelyn Whitley Keith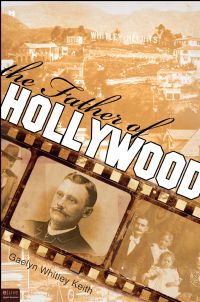 If there is one thing I've learned from my great-grandfather about life it is that friendship is one's greatest asset! HJ Whitley changed the world in many ways and now his newfound friends can help him win the honor he deserves. We're going to do our best to make "The Father of Hollywood" a best seller and here's what you can do to help. I appreciate anything and everything you're able to do!!
1. Buy it!
HJ Whitley would be honored if you chose to buy "The Father of Hollywood" for yourself and for any of your friends or colleagues. It is available at your local bookstore or by going to our website: www.TheFatherofHollywood.com or Amazon: http://www.amazon.com/gp/product/1616634758?ie=UTF8&tag=thefatherofho-20&linkCode=as2&camp=1789&creative=9325&creativeASIN=1616634758
Read more: 10+ Things You Can Do to Make "The Father of Hollywood" a Best Seller
Posted: Friday, December 10th, 2010 by Gaelyn Whitley Keith
Little-Known Facts about How Tinseltown Came to Be

First Hollywood movie filmed on Whitley Estate on October 26, 1911.

Of all the products of popular culture, none is more sharply etched in our imagination than the movies. Most Americans instantly recognize images produced by the movies: Harrison Ford, as Indiana Jones, as an adventurous archeologist in Radars of the Lost Ark. Sean Connery, the gun-toting James Bond in Gold Finger, and Carrie Fisher, the beautiful princess who is fighting the evil emperor in Star Wars. Even those who have never seen ET, Casablanca or Gone With the Wind respond instantly to the advertisements, parodies, and TV skits that use these films' dialogue, images, and characters. So when was the first Hollywood movie filmed?
Posted: Saturday, January 22nd, 2011 by Gaelyn Whitley Keith
When you say the name "Hollywood", images of movie studios and glamorous stars instantly pop into your mind.
Posted: Sunday, October 10th, 2010 by Gaelyn Whitley Keith
The Hollywood Walk of Fame is an internationally-recognized Hollywood icon. With about 24 induction ceremonies annually broadcast around the world, the constant reinforcement provided to the public has made the Walk of Fame a top visitor attraction.