Posted: Sunday, September 8th, 2013 by Gaelyn Whitley Keith
Watch a movie trailer about the Father of Hollywood
Posted: Saturday, February 9th, 2013 by Gaelyn Whitley Keith
HOLLYWOOD, LOS ANGELES (KABC) -- Hooray for Hollywood! Eye on L.A. went back in time to discover the stories of Hollywood stars and how Hollywood itself became the entertainment capital of the world.
Posted: Monday, December 3rd, 2012 by Gaelyn Whitley Keith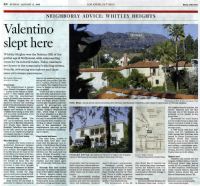 Whitley Heights was the Palatine Hill of the Golden Age of Hollywood, with commanding views for its cultural rulers. Learn more about Whitley Heights at:
Whitley Heights Org.
Posted: Wednesday, September 5th, 2012 by Gaelyn Whitley Keith
H J Whitley's lucky day was October 26, 1911!