Hollywood Blog
Posted: Tuesday, April 25th, 2023 by Gaelyn Whitley Keith
It was Albright who pointed out Dick Barthelmess house and told about those trysts with Talmadge, which the neighbors could vicariously enjoy when they occurred on the terrace; he also showed us the unhappy house in which the too - beautiful Miss LaMarr had lived until she perished in flames of Hollywood legend.
Albright seemed to possess a mystical acceptance of Hollywood, easily blending scandal with eulogy. "Hollywood," he declaimed in his peroration, holding our little group spellbound in the street, "is the repository of our entire civilization."
Whitley's own villa is one of the few that has the traditional Palladian facade: It stands above the street at the crest of 30 broad steps - two stories, symmetical, with white ionic columns on a porch guarded by two stone lions.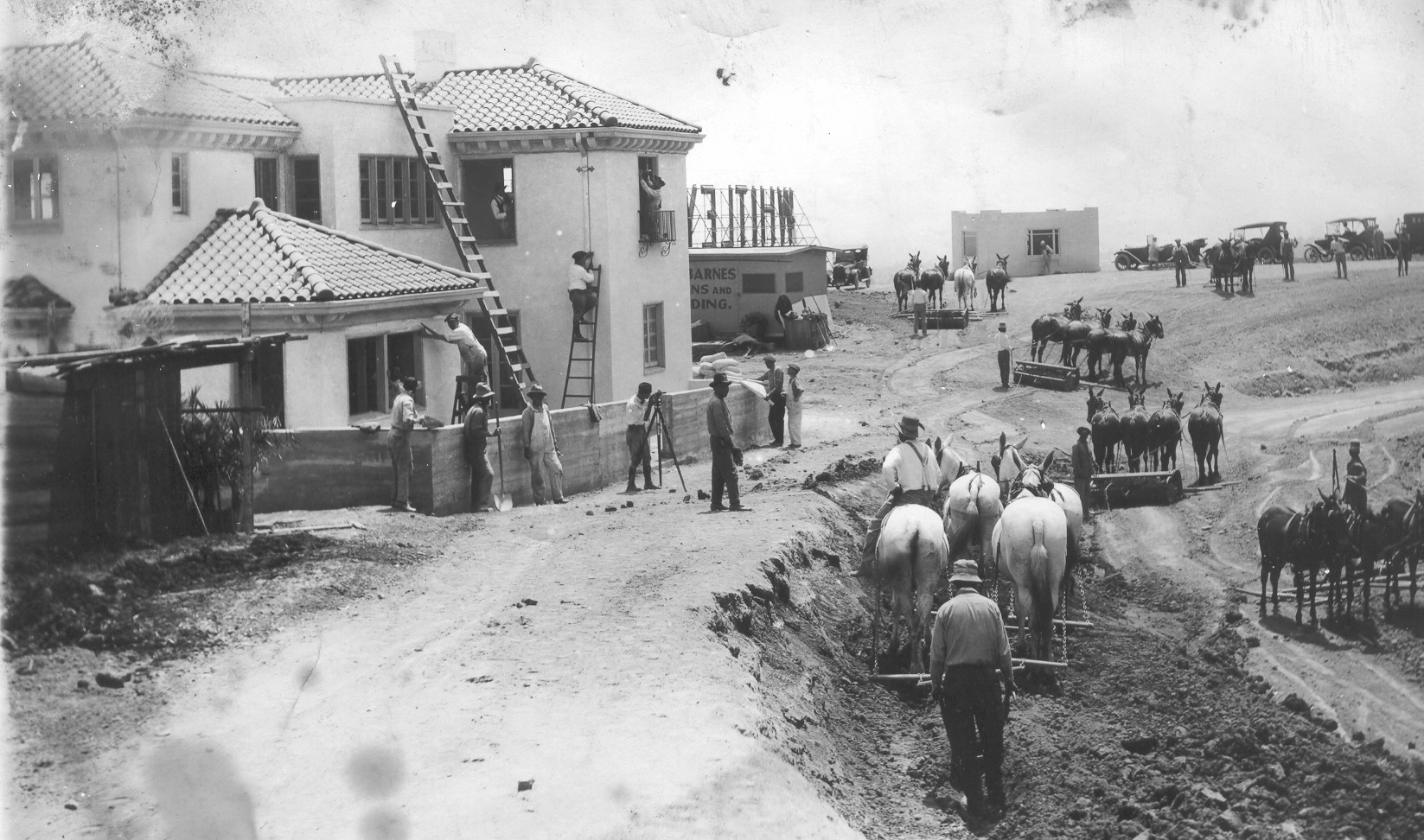 Back side of Whitley's Home. See the Whitley Heights sign and Barnes Truck.
Valentino's house was in the path of the freeway, and is gone, razed to make six lots, but from now on the integrity of the hill will be kept. Any new house must be in Mediterranean style, with red tile roofs.
More than once, on the tour, I overheard someone asking, "How did they ever get that grand piano up those stairs/"

Anything is possible in the repository of civilization.

Los Angeles Times May 12, 1983 by Jack Smith
Posted: Tuesday, April 25th, 2023 by Gaelyn Whitley Keith
Gloria Swanson llived in a house near Vallambrosa while making "Sunset Boulevard," the movie that restored her career. Earlier, when he was in captivity at Warner Brothers as a writer, the Nobel winner William Faulkner excaped to the house to do his writing under the shelter of its sympathetic lady tenant.
Owned the past 31 years by Richard Whitfield, the house conceals a lush garden court that climbs to its upper levels - a little Eden of ferns, pine, lemon, orange, magnolia and philodendron.
James Albright, wearing a pink jersey shirt, tweed cap and brown corduroy pants, took our group over to show us the house once lived in by Chester Morris, famed as Boston Blackie, and a strange three-tierd house that had been occupied at various times by Rosalind Russell, Joseph Schildkraut and James Hilton, author of "Lost Horizon," before the formidable character actress Beulah Bondi bought it in 1941. Miss Bondi lived in it till she died in 1981, going up and down twisting narrow stairways that might have come from one ot the gothic tales she sometimes played in. Perhaps her most famous roll was playing the mother in "Its a Wonderful Life".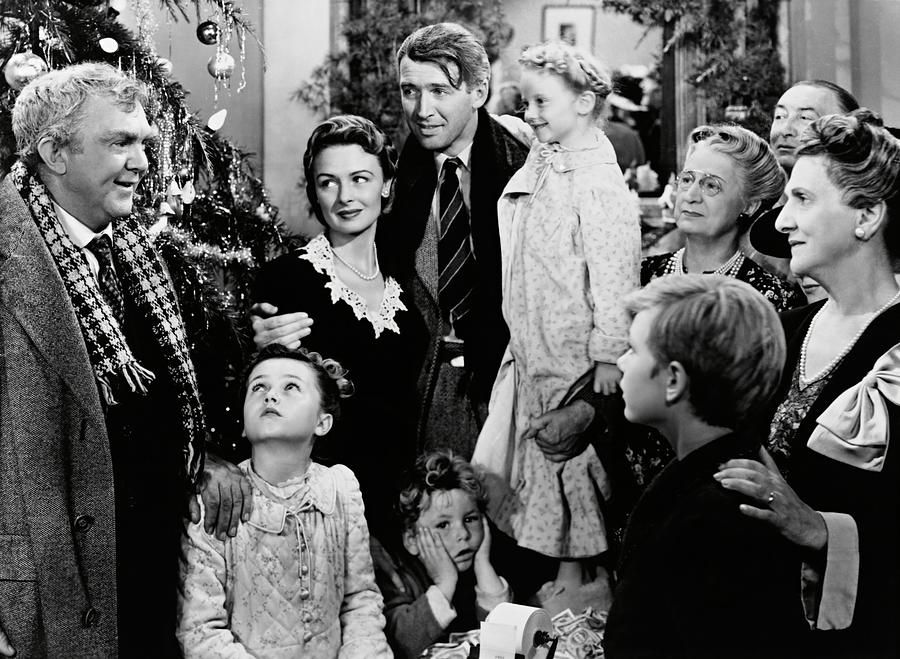 Albright had done his homework. Did we know that Chester Morris had given Charles Boyer his start in movies, getting him a two-line part as a taxi driver in a movie called "Red Headed Woman"?
Posted: Wednesday, April 19th, 2023 by Gaelyn Whitley Keith
In the 1920s Rudolph Valentino and Francis X. Bushman lived just across the street from each other in Whitley Heights, on the small hill that rises above Highland and Franklin avenues.
Looking at the narrow street today, it is hard to imagine those flamboyant egos sharing it - Valentino in a phaeton with his silver cobra emblem and Bushman in hi lavender Rolls-Royce.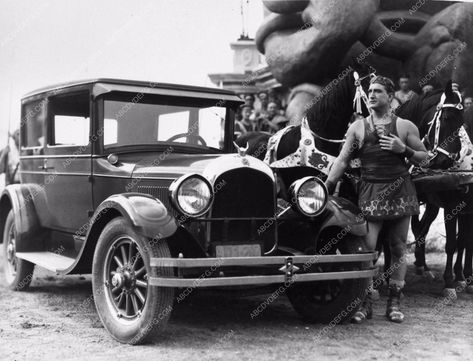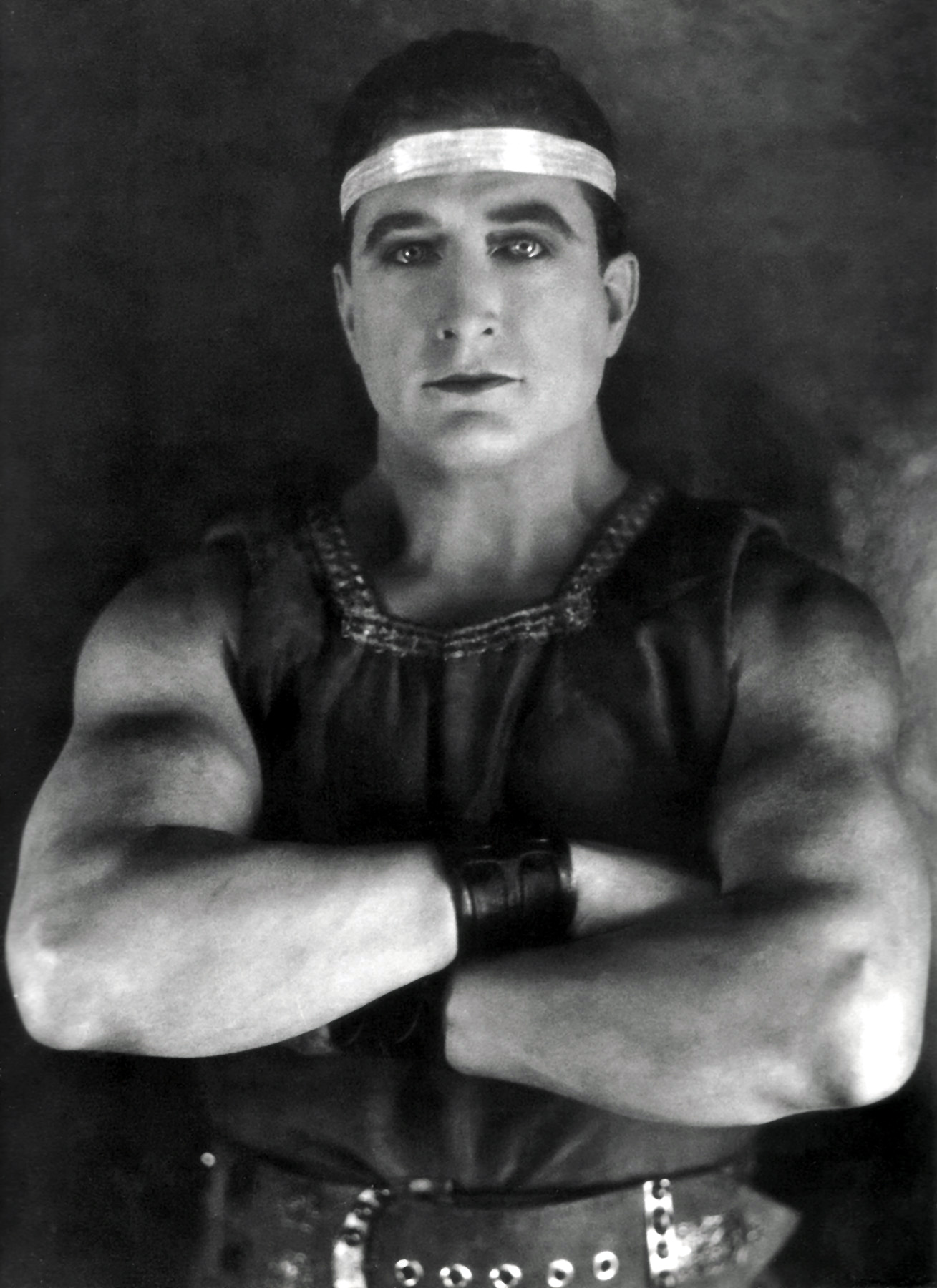 Robert Vignola, the director, gave extravagant parties in a villa secretly built by William Randolph Hearst as a hideaway for Marion Davies. Paul Kelly lived on the hill in matrimonial bliss with Dorothy MacKaye after he did time in San Quentin for killing her husband.
Barbar LaMarr, who was said to be "too beautiful to live", lived scandalously in a three-story hillside house, and died at 29 of overdose of heroian.
So they say.
Though for half a century I had seen those houses shining among the palms, pines, and eucalyptus, I had never been inside one until last Sunday morning, when my wife and I took a Whitley Heights tour conducted by Hollywood Heritage and the Whitley Heights Civic Assn.
Los Angeles Times may 12, 1983 by Jack Smith.
Posted: Tuesday, April 25th, 2023 by Gaelyn Whitley Keith
In the 1940's part of the fabled hill was cut through by the Hollywood Freeway, and Whitley Heights withdrew into its shell, like a threathened snail. Recently it was declared a National Historic Place - Hollywood's first - and acquired some protection against alterations or additions that would change its character.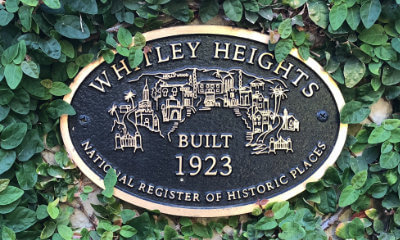 This character is exemplified by the Villa Vallambrosa, a three-story house built in 1929 by Eleanor De Witt, a wealthy and fastidious widow. Like most of the houses in Whitley Heights, it is not the usual symmetrical rectangle, but a collection of rooms and courtyards of various shapes and levels, fitted to the steep hillside.
Its next-to-last owner, a decorator who evidently in his white period, did everything white, including the dining room ceiling, which had been gold leaf and can not be restored. The present owners mercifully have covered or thrown out the white including the white shag carpet in the high-ceiling Italian living room. Also they have restored a framed photograph of the elegant Mrs. De Witt, in a cloche hat, looking pensive.
Thanks to relays of tireless and friendly Hollywood Heritage docents we picked up some facts, along with the legend. Whitley Heights was developed by Hobart J. Whitley, who bought the hill in 1899. He liked the architectural styles of the Mediterrean, thought they would be suitable to Southern California climate and hired architect, Arthur Barnes, to adapt them to his hill. Barnes did most of the houses built before 1930.
Posted: Wednesday, February 8th, 2023 by Gaelyn Whitley Keith
Before Beverly Hills existed the rich and famous stars of Hollywood lived in a Mediterranean style neighborhood called Whitley Heights. This gem of a neighborhood still remains today and is virtually untouched. In this episode you'll see homes and hear stories whose subjects include Barbara La Marr, Jean Harlow, Beverly D' Angelo, Jay Stewart, Army Archerd, Hobart J. Whitley, Rosalind Russell, Rock Hudson, Sidney Franklin, James Hilton, Joseph Schildkraut, Beulah Bondi, Irving Thalberg, Norma Shearer, Maurice Chevalier, Hedy Lamarr, Chester Morris, Groucho Marx, William Bast, Eugene O' Brien, Adela Rogers St. John, Richard Barthelmess, Marion Davies, William Randolph Hearst, Patty Hearst, and Wesley "Freckles" Barry. You can also see some film locations from the films "Hail, Caesar!" and "The Day of the Locust."