Media Room
Videos
Watch FOX News interview with Jaime Garza:
Watch fact #7 to learn how Hollywood got it's name.
Library of Congress Original Movie 1903
Watch to the end of the movie. H J Whitley is the man getting into the carriage wearing a bowler. He rides off with Teddy Roosevelt. Click on the picture to see the movie.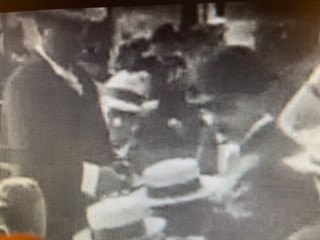 The Whitley Papers
Margaret Virginia (Gigi) Whitley's Diary Naming of Hollywood 1886
National Registry of Historic Places United States Department of the Interior Heritage Conservation and Recreation Service 1982

Historic Preservation Groups:
Conference of California Historical Societies
Whitley Heights
Los Angeles Conservancy - Holly Hill Terrace
Los Angeles Conservancy - Milner Road University of California - H J Whitley purchased Hurd Home 1899
Historical Landmark Data Base 1911
Encyclopedias:
Britannica - H J Whitley
Britannica - Hollywood California
World Heritage Encyclopedia Hobart Johnstone Whitley

Magazine Articles About Hollywood:
Mr. Whitley's Neighborhood
Discover Hollywood Magazine
Los Angeles Magazine August 17, 2017
Historic Neighborhood Whitley Heights
Cal Poly Magazine
Foothill Styles Magazine
Keith and Kin
HJ Whitley Gravesite:
Hobart Johnstone (HJ) Whitley Gravesite
HJ Whitley Gravesite
Websites About Hollywood:
H. J. Whitley: Father of Hollywood
One-hundred Years of Hollywood
Hollywood Then and Now
First Hollywood movie filmed on Whitley Estate on October 26, 1911
Our History
History.com
KCET: A Charming Hostelry: The Hollywood Hotel Story
LLOYD'S BEWARE THE BLOG A Motion Picture and Television History Blog
Sacramento City Library
WhitleyHeights.org
Whitley's Hollywood Holdings
The Ontario man who invented Hollywood
Hollywood
Hollywood Facts
Hollywood Hotel
How Did Hollywood Get Its Name?
11+ Amazing, Best, Crazy and Funny Hollywood facts
Early Los Angeles (Hollywood) Historical Buildings (1900 - 1925)
HJ Whitley
Stars on the Hill
Rudolph Valention's Home in Whitley Heights
Barbara LaMarr's Home in Whitley Heights
H J Whitley Letter
Letterboxing
Whitley Heights
The Historic Whitley/Hollywood Heights Walking Tour
Hobart Johnstone Whitley
How Hollywood became Hollywood
6749 Whitley Terrace Secret Mediterranean village
FROM THE INSIDE Turning lemons into lemonade
When Life Gives You Lemons
Our fresh lemonade is back!
Whitley Heights Residents
HJ Whitley American Businessman
Hollywood Before Hollywood
Janes House: Hollywood's Oldest Remaining Residence
A Brief History Of Hollywood Before It Was Hollywood
Where Is Hollywood?
Hollywood Facts
Suburban mansion of H. J. Whitley, Van Nuys California State University, Northridge
H J Whitley Transformed It Into America's Movie Capitol, City #8
STEAM #9 - Lights, Camera, Micheaux!
The Beginner's Guide to Hollywood
H J Whitley Came Up With Idea For Hollywood Sign
Infamous (2020)
Yamashiro: A Feudal Fortress built on Whitley Hill
The birth of Hollywood
Whitley Heights Vintage Photos
About Whitley Heights
Classic Movie Star Style
A Walk in Whitley Heights: Secrets of Hollywood's Golden Era Revealed!
Hollywood Blvd 1962
Hollywood California History
All About Rudolph Valentino
H. J. WHITLEY FOUNDED BOTH HOLLYWOOD AND VAN NUYS
Discover a little slice of Europe tucked away on a hillside in Hollywood.
HOLLYWOOD
Hollywood before and after photos
H. J. Whitley, pg. 62, 1890
Whitley Heights
Barbara Stanwyck's Whitley Heights Estate – 6666 Whitley Terracee
The Owensmouth Baby: The Making of the San Fernando Valley Town
Corcoran California
Find A Grave
Listen to Radio Interviews with Gaelyn Whitley Keith:
WMBS-CBS Radio Interview - with Jack Evans
Ripleys Radio 7-11-11 Mantz & Mitchell Radio Show May 21 2011
850 KOA-AM Denver, Colorado with Rick Barber
Peter Anthony Holder, CJAD 800 AM, Montreal, CFRB 1010 AM, Toronto
Dresser After Dark Radio Show with Michael Dresser
PIVTR Radio Interview
Hometown Radio San Luis Obispo, California
Freedom Yell with Jack Mizell, Ozark, Alabama
FCCFreeRadio.com San Francisco, California

Book Reviews of The Father of Hollywood:
D Fowler
Another Review at MyShelf.Com
Library Thing - The Father of Hollywood
Books About Hollywood:
Who's Who in Los Angles County 1927
Who's who in the Pacific Southwest page 391
Los Angeles from the mountains to the sea : with selected biography 1921 pgs. 814-817
H J Whitley Board of Directors, Home Savings Bank 1912 pg. 115
H J Whitley Vice President Home Savings Bank 1912
Sunset Volume 32, 1913 pgs. 361-363
H J Whitley President of Bank of Lankersheim 1913 gp. 420
In the Valley of the Cahuengas The Story of Hollywood 1922 pg. 20
Hollywood 1900-1950 in Vintage Postcards
The Owensmouth Baby by Catherine Mulholland
William Mulholland and the Rise of Los Angeles, pg. 97
Hollywood: the movie lover's guide : the ultimate insider tour to movie L.A. page 47-50
Hollywood & the Best of Los Angeles Alive! page 112 White
Sunset, Volume 32 By Southern Pacific Company. Passenger Dept 1914 p6 361-363
Motor age, Volume 5 page 133 1904
Ivar Weid page 93 and 95 Unexpected Death 1901 made it impossibl for Ivar Weid to reveal how Hollywood got its name.