Media Room
Welcome to The Father of Hollywood Media Room.
Watch FOX News interrview with Jaime Garza:
When you say the name "Hollywood", images of movie studios and glamorous stars instantly pop into your mind. However when HJ Whitley came to California in the late 1800's he stood on a hillside overlooking a fertile valley of orchards and farms and dreamed of what he could develop here. It was at that moment that a Chinese immigrant approached driving a wagon pell mell towards the Whitleys. Whitley asked, "What are you doing here?" The Chinese man answered in broken English, "Work hard, hauley wood." There he sat in a wagon full of wood being hauled to town. And that is how the "Entertainment Capital of the World" got its name! The area is now home to the Kodak Theatre, Grauman's Chinese Theatre, and the famous Magic Castle. It is an incredible journey back in time when Whitley was the only one who was singing, "Hoorah for Hollywood!" or should it have been "Hoorah for Hauling Wood"
Library of Congress Original Movie 1903
Watch HJ Whitley with Teddy Roosevelt July 4th 1903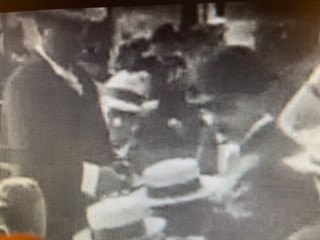 Watch to the end of the movie. H J Whitley is the man getting into the carriage wearing a bowler. He rides off with Teddy Roosevelt. Watch fact #7 to learn how Hollywood got it's name.
More information about HJ Whitley, (The Father of Hollywood), can be found on Wiki 2 Wikipedia Republished

The Whitley Papers
Margaret Virginia (Gigi) Whitley's Diary Naming of Hollywood 1886

Historic Preservation Groups:
Conference of California Historical Societies
Whitley Heights
Los Angeles Conservancy - Holly Hill Terrace
Los Angeles Conservancy - Milner Road
Magazine Articles About Hollywood:
Mr. Whitley's Neighborhood
Discover Hollywood Magazine
Cal Poly Mazazine
Foothill Styles Magazine
Keith and Kin
HJ Whitley Gravesite:
Websites About Hollywood:
History.com
Cinema Treasures
Sacramento City Library
WhitleyHeights.org
Whitley's Hollywood Holdings
Rudolph Valention's Home in Whitley Heights
Barbara LaMarr's Home in Whitley Heights
H J Whitley Letter
Letterboxing
The Hollywood Hotel
When Life Gives You Lemons
Our fresh lemonade is back!
100th Anniversary of First Hollywood Studio
Whitley Heights Residents
HJ Whitley American Businessman
Newspaper Articles:
Washington Post Teddy Roosevelt speech Whitley Bank 7-4-1886 (Dickinson, Dakota Territory)
Wichita Eagle. (Wichita, Kan.), 4-28-1889
The Coconino Sun 12-8-1900
House and Lot LA Times 4-5-1901
Hollywood Making Many Improvements LA Times 4-25-1901
New Cahuenga Valley Boulevard LA Times 5-26-1901
BOULEVARD IS WANTED Los Angeles Herald, Volume XXVIII, Number 234, 22 May 1901
Boulevard Inspection Trip LA Times 6-27-1901
Blvd. Enthisiasts Given Object Lesson LA Times 6-28-1901
Outlook Improving for Sunset Blvd. LA Times 8-11-1901
Doings On Hollywood Blvd. LA Times 9-12-1901
Whitley's Popular Opening LA Times 11-24-1901
Improvements in Hollywood Los Angeles Herald 11-26-1901
Sunset Boulevard Project LA Times 3-15-1902
Naming County Roads LA Times 3-30-1902
House and Lot LA Times 5-18-1902
Holiday For Hollywood LA Times 6-27-1902
House and Lot LATimes 8-10-1902
Hollywood Bank LATimes 8-31-1902
Hollywood Boulevard LATimes 9-14-1902
House and Lot LATimes 10-12-1902
Hand Out To Methodists LATimes 10-19-1902
Boulevard Headed For Los Angeles Gates LATimes 11-2-1902
Among Real Estate Owners and Dealers LATimes 11-16-1902
House and Lot LATimes 11-16-1902
Second Projected Hollywood Boulevard LA Times 11-25-1902
House and Lot LATimes 11-30-1902
Ocean View Tract LATimes 1-4-1903
House And Lot LATimes 1-11-1903
Hollywood LA Times 2-1-1903
Schools Outgrown About Hollywood LA Times 2-8-1903
Among Real Estate Owners And Dealers LA Times 3-8-1903
Hollywood LA Times 3-15-1903
Gala Boulevard Day LA Times 4-16-1903
House And Lot LA Times 4-19-1903
Hollywood LA Times 4-22-1903
Farewell Banquet To Mrs, Whitley LA Times 4-24-1903
Los Angeles Herald, Volume XXX, Number 201, 26 April 1903
Doings of Builders and Architects LATimes 5-24-1903
H J Whitley Jewelry Company's Marvelous Growth LA Times 6-21-1903
Hollywood Boomer Knocked Off His Feet LA Times 7-11-1903
BANQUET TO H.J. WHITLEY Los Angeles Herald, Volume XXX, Number 278, 12 July 1903
A Sample LA Times 11-8-1903
Death of Angeleno in Copenhagen LA Times 9-15-1903
Handsome Profit LA Times 12-8-1903
Flowers Rivaled Gems LA Times 12-10-1903
Hollywood LA Times 2-10-1904
Hollywood LA Times 2-17-1904
Hollywood LA Times 5-8-1904
Hollywood LA Times 5-15-1904
Happy Bouldevard Celebration, Hollywood LATimes 5-15-1904
Hollywood, Whitleys Go Aboard LATimes 5-29-1904
News of Society LA Times 10-30-1904
How Hollywood Has Grown LA Times 2-5-1905
Progress Told at Banquet LA Times 5-2-1905
Will Develop Lands North LA Times 6-4-1905
Entertain In Hollywood LA Times 9-9-1906
Large Realty Sale Made LATimes 9-14-1906
Farewell To Mrs Whitley LATimes 7-17-1907
Los Angeles Herald 7-18-1907
Two Hundred Banquet Los Angeles Herald, Volume 34, Number 326, 23 August 1907
Industries Found By Southern Capital LA Times 9-8-1907
Going On Long Journey LATimes12-23-1907
Bank Business Is Encouraging LATimes 1-1-1908
Irrigation Pointers LATimes 2-6-1908
Imperial Valley Press 4-18-1908
Retiring LATimes 10-18-1908
Los Angeles Herald 12-20-1908
Plant Egyptian Cotten LATimes 1-10-1909
Los Angeles Herald 5-29-1910
House, Lots and Lands LATimes 10-17-1909
Imperial Valley Press 11-20-1909
Los Angeles Herald 2-13-1910
Los Angeles Herald 5-25-1910
Los Angeles Herald 5-26-1910
Los Angeles Herald 5-29-1910
Los Angeles Herald 12-25-1910
Van Nuys, Built In Day LA Times 3-12-1911
Realty Men Hold Revel LATimes 7-16-1911
The 100th anniversary of Hollywood's first movie studio 10-26-1911
Sales Increase LA Times 1-21-1912
To Specialize LA Times 2-25-1912
Stork Hovers O'er The Vale LA Times 3-28-1912
Tribute To Father of Hollywood LA Times 6-29-1912
For Young Idea In New Field LA Times 8-11-1912
Home Bank Add Another Branch LA Times 5-25-1913
Blaze Of Light On Sherman Way LA Times 11-2-1913
Pacific Ocean Highway Is Strong Possibility LATimes 12-13-1913
Lights Blaze Welcome To Admiring Thousands LA Times 6-7-1914
New Owensmouth Bank LA Times 11-10-1914
Honolulu Star-Bulletin. (Honolulu [Oahu, Hawaii), 1-28-1916
To Span Nation With Highways LA Times 2-20-1919
Whitley Heights Opened LATimes 6-24-1920
Era of Development Dawns For Highlands LA Times 4-15-1923
The Magic Story of Hollywood LA Times 3-28-1924
End Comes To Mis LaMarr LA Times 1-31-1926
Father of Hollywood Dies Hollywood Daily Citizen June 4, 1931
Death Calls The Father of Hollywood LA Times 6-4-1931
Mourn HJ Whitley The Father of Hollywood LA Herald 6-5-1931
Father of Hollywood Dies Hollywood Citizen 6-5-1931
Neighborly Advice: Whitley Heights Los Angeles Times 1-13-2008
Hollywood and Whitley 2-21-2008
San Francisco Examiner
Hollywood Sign Guide 2009
El Dorado Hills Telegraph 10-19-2010
Hollywood History
Canadian Examiner Interview with author Gaelyn Whitley Keith - part 1
Canadian Examiner Interview with author Gaelyn Whitley Keith - part 2
Canadian Examiner Interview with author Gaelyn Whitley Keith - part 3
Larchmont Chronicle WHITLEY BIOGRAPHY TELLS OF 'FATHER OF HOLLYWOOD' 2-3-2012
How Hollywood became Hollywood 7-5-2012
Bismarck Tribune. (Bismarck, D.T.), 2-08-1884
Listen to Radio Interviews with Gaelyn Whitley Keith:
WMBS-CBS Radio Interview - with Jack Evans
Ripleys Radio 7-11-11 Mantz & Mitchell Radio Show May 21 2011
850 KOA-AM Denver, Colorado with Rick Barber
Peter Anthony Holder, CJAD 800 AM, Montreal, CFRB 1010 AM, Toronto
Dresser After Dark Radio Show with Michael Dresser
PIVTR Radio Interview
Hometown Radio San Luis Obispo, California
Freedom Yell with Jack Mizell, Ozark, Alabama
FCCFreeRadio.com San Francisco, California

Encyclopedias:
Britannica - H J Whitley
Britannica - Hollywood California
Hollywood Sign Wikipedia
HJ Whitley Wikipedia
Whitley Heights Wikipedia
Encyclopedias - Spanish:
Book Reviews of The Father of Hollywood:
Books About Hollywood:
Who's Who in Los Angles County 1927
Hollywood 1900-1950 in Vintage Postcards
The Owensmouth Baby by Catherine Mulholland
William Mulholland and the Rise of Los Angeles
Hollywood: the movie lover's guide : the ultimate insider tour to movie L.A. page 47 Alleman
Hollywood & the Best of Los Angeles Alive! page 112 White
Sunset, Volume 32 By Southern Pacific Company. Passenger Dept 1914
Motor age, Volume 5 page 133 1904
Ivar Weid page 93 and 94