Hollywood Blog
Posted: Tuesday, July 5th, 2011 by Gaelyn Whitley Keith
Come see this romantic 3 story Spanish Revival view home in the Whitley Heights Historic District, an enclave which was once home to many of Hollywood's early stars including Rudolph Valentino, Tyrone Power. Gloria Swanson and Judy Garland.
Posted: Friday, May 13th, 2011 by Gaelyn Whitley Keith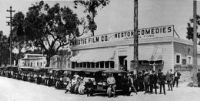 It was a chance meeting with David Horsley that changed the dynamics of the world. How did Whitley know that this Industry in its infancy would be so powerful? Others would try but Whitley was able to convince the majority of directors, producers and stars to settle in his new town Hollywood. On October 26, 2011 be sure to be part of this historic 100th anniversary of the first Hollywood Studio filming in Hollywood. The movie was filmed at the Whitley Estate on the corner of Hollywood Boulevard and Whitley Avenue.
Read more: Whitley's Hollywood – What would it be without him?????
Posted: Saturday, January 22nd, 2011 by Gaelyn Whitley Keith
When you say the name "Hollywood", images of movie studios and glamorous stars instantly pop into your mind.
However when HJ Whitley came to California in the late 1800's he stood on a hillside overlooking a fertile valley of orchards and farms and dreamed of what he could develop here.

It was at that moment that a Chinese immigrant approached driving a wagon pell mell towards the Whitleys. Whitley asked, "What are you doing here?" The Chinese man answered in broken English, "Work hard, hauley wood." There he sat in a wagon full of wood being hauled to town. And that is how the "Entertainment Capital of the World" got its name!

The area is now home to the Kodak Theatre, Grauman's Chinese Theatre, and the famous Magic Castle. It is an incredible journey back in time when Whitley was the only one who was singing, "Hoorah for Hollywood!" or should it have been "Hoorah for Hauling Wood"


Posted: Tuesday, March 29th, 2011 by Gaelyn Whitley Keith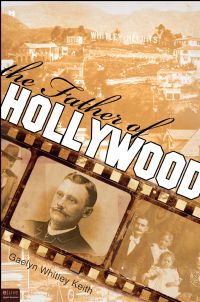 If there is one thing I've learned from my great-grandfather about life it is that friendship is one's greatest asset! HJ Whitley changed the world in many ways and now his newfound friends can help him win the honor he deserves. We're going to do our best to make "The Father of Hollywood" a best seller and here's what you can do to help. I appreciate anything and everything you're able to do!!
1. Buy it!
HJ Whitley would be honored if you chose to buy "The Father of Hollywood" for yourself and for any of your friends or colleagues. It is available at your local bookstore or by going to our website: www.TheFatherofHollywood.com
2. Email
Email everyone! As HJ Whitley taught us word-of-mouth is one of the best recommendations anyone can receive. It would be great if you could email your friends and tell them about "The Father of Hollywood" and where they can purchase it.
Need help? Here's is a suggested email you can send: "My good friend, Gaelyn Whitley Keith, the great-granddaughter of H J Whitley, has just written a book that's soon to become a best seller. It's entitled "The Father of Hollywood. It's available from Amazon.com , through your local book stores and the Keith website www.TheFatherofHollywood.com . You may know her from her numerous appearances on radio and television. Thanks for spreading the word. It's a wonderful life!"
3. Facebook
Facebook is a wonderful place to tell friends about friends! Anything you are able to post on your own Facebook page about the book, either your thoughts about the book or about HJ Whitley, would be greatly appreciated! Please join our Facebook fan page! http://www.facebook.com/pages/www.thefatherofhollywood.com/56376692545 and share it with your friends! IMPORTANT: Sharing our Facebook fan page with your friends and encouraging them to also become a fan can be one of the best ways to spread the word for "The Father of Hollywood" to become a best seller!!
4. Tweet
One way to make things go viral is to tweet about the book because Twitter is able to reach a large number of people. Some tweet topics include 'you are buying a book', 'giving the book as a gift', 'passing it out to co-workers and employees', attach a picture of where you're reading it, shout-out your favorite chapter or re-tweet someone else's comments. The key is to keep the conversation going with the Twitteratti!!
Another Tweet idea is to add hash tags so that other people can follow and help the news propagate. Use any of these popular hash tags: #biz, #social, # entrepreneur, #success, and #TheFatherofHollywood.
A sample tweet could be: I just read "The Father of Hollywood" from and you should too!! Order it from Amazon!
5. Meet up/Tweet up:
Another idea is to hold a gathering of friends, co-workers or customers and have Gaelyn stop by while on her book tour and meet/greet everyone, talk a few minutes about the book and have a book signing. If interested, please contact us at This email address is being protected from spambots. You need JavaScript enabled to view it. to find out when she might be visiting your city.
6. Webinar
A great way to utilize Gaelyn Whitley Keith's excellent speaking skills is to invite her to do a Webinar you may be hosting or by suggesting her to someone you may know who is utilizing this online medium. Think about using Gaelyn and the topics around "The Father of Hollywood" as the subject matter for your Webinar discussion. Contact Randy via This email address is being protected from spambots. You need JavaScript enabled to view it. to schedule your Webinar soon.
7. Media
Interviews! Interviews! Interviews!! TV, radio, newspaper, magazine, newsletters, blogs, online or offline media!! If you have any contacts to any online, offline, print or broadcast media where Gaelyn could be interviewed about the book, please contact Randy via This email address is being protected from spambots. You need JavaScript enabled to view it.
8. Blog
Do you have a blog or know someone who does? If so, consider an interview with Gaelyn or write about your own personal feelings about HJ Whitley. You may also want to blog about your favorite topics from the book. If your blog is a business one, and you would like to do some kind of promotion or give-away with the book, please contact us about your ideas.
9. Pictures
Pictures say a thousand words - so take a picture of yourself in an interesting place holding the book and post it on www.TheFatherofHollywood.com , or HJ Whitley Facebook fan page http://www.facebook.com/pages/www.thefatherofhollywood.com/56376692545, your own blog or tweet one. Our Facebook fan page has a contest going for people sending pics of themselves reading the book all over the world. So far we have pics of people reading on the beach, in a park, and of course Hollywood!
10+. Word of Mouth
No rocket science here - tell co-workers, friends, family, and people on the street: "Have you read the new blockbuster by Gaelyn Whitley called "The Father of Hollywood" ??" Extra points given to people who wear sandwich-boards while walking the streets handing out "The Father of Hollywood" flyers
11. Book Signing
If you would like to help organize a book signing, please contact us at This email address is being protected from spambots. You need JavaScript enabled to view it. so we can schedule one in a city near you! Our team will work closely with a local independent, Barnes & Noble or Borders book stores.
12. Write a review
Go to www.amazon.com or www.barnesandnoble.com and write your own takeaways and thoughts as a result of reading "The Father of Hollywood." Some already have and we would welcome your recommendation too!
Thanks in advance for your help to making the "The Father of Hollywood" a best seller!!!
13. Nominate HJ Whitley to the California Hall of Fame.
The California Hall of Fame provides inspiration for future generations. HJ Whitley is someone whose achievements should be recognized. Nominate him today. Go to http://www.californiamuseum.org/exhibits/halloffame/nomination-form and nominate HJ Whitley into the California Hall of Fame.
13. 100STARS * 100YEARS
Stars are ready for your votes! Go to www.TheFatherofHollywood.com. You've watched hours of movies spanning the decades and now we're giving you a chance to nominate your two favorite stars of the century. Cast your vote by October 20, 2011. Then come back on Wednesday, October 26, 2011 the 100th anniversary of the first Hollywood Studio filming in Hollywood, to learn the people's choice for the Top 100 Stars of the Century. Do you know someone who deserves recognition for their outstanding acting? Nominate them today.

Posted: Friday, December 10th, 2010 by Gaelyn Whitley Keith
Little-Known Facts about How Tinseltown Came to Be

First Hollywood movie filmed on Whitley Estate on October 26, 1911.

Of all the products of popular culture, none is more sharply etched in our imagination than the movies. Most Americans instantly recognize images produced by the movies: Harrison Ford, as Indiana Jones, as an adventurous archeologist in Radars of the Lost Ark. Sean Connery, the gun-toting James Bond in Gold Finger, and Carrie Fisher, the beautiful princess who is fighting the evil emperor in Star Wars. Even those who have never seen ET, Casablanca or Gone With the Wind respond instantly to the advertisements, parodies, and TV skits that use these films' dialogue, images, and characters. So when was the first Hollywood movie filmed?