Hollywood Blog
Posted: Saturday, September 16th, 2017 by Gaelyn Whitley Keith
"Col. Griffith lips parted, and from beneath his heavy, well waxed mustache issued salutation and words of praise for the indomitable courage, indefatigable effort and patriotic spirit of Mr. Whitley, whose record of town building along the Northern Pacific Railway and the great territory of Oklahoma made him a national benefactor. Congratulating Hollywood upon possessing such a citizen, Col Griffith then folded up and pocketed his notes and was seated.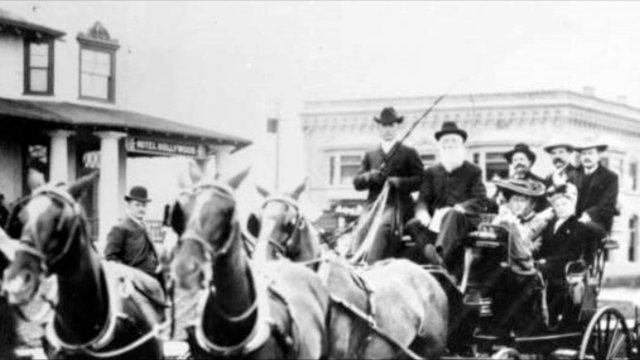 H J Whitley standing under the Hotel Hollywood sign to meet his guests.
"Whitley! Whitley!" from all sides, brought Mr. H. J. Whitley reluctantly to his feet, his large, smooth face radiant with blushes for the Col. Griffith's compliments, and looking extremely young for his six feet two and broad square shoulders. Mr. Whitley chided the genial Colonel for protesting too much and again made clear that the Colonel's great gift and other benefactions made him the outstanding citizen of Southern California; and then explained no one could accomplish great things unless environed by the cooperative spirit of "such great men as we have with us tonight, when all things are possible. As Mr. Whitley took his seat, General Sherman was called for, and removing his arm from the back of Mr. Sandison's chair, he raised his portly person to state that his speech of the evening might be summed up in five words; and with a sweeping gesture that encompassed both ends of the table he said: "Behold what God hath wrought" and resumed his seat. Mr. DeLongpre was introduced and complimented Mr. Whitley."
Reference: History of Hollywood by Edwin O Palmer page 116 (1938)
Posted: Tuesday, September 12th, 2017 by Gaelyn Whitley Keith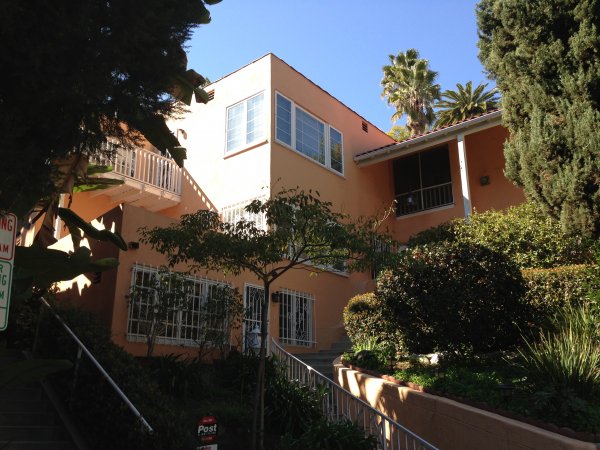 Photo by Flora Chou/L.A. Conservancy
Holly Hill Terrace Residence
Located in one of Hollywood's most historic residential neighborhoods, plans for the development included height restrictions to guarantee that every home retained a view of the city below. This residence is located in one of Hollywood's most historic residential neighborhoods, Whitley Heights. Whitley Heights was the last project of developer H. J. Whitley. He developed the area from 1918 to 1928 as an upper-middle-class, single-family residential neighborhood designed to resemble a Mediterranean hillside village. The concept of a hillside development was new to Los Angeles at the time, and the plans included graded roads, retaining walls, and flights of pedestrian steps. Height restrictions guaranteed that every home retained a view of the city below, and architectural design guidelines ensured that the neighborhood homes maintained the appearance of Mediterranean-style villas. This house on Holly Hill Terrace is designed in the Mediterranean style, featuring an L-shape plan that follows the unique configuration of the lot and an exterior clad in smooth-finished stucco. Over the years, this home has remained largely intact, with the exception of a two-story veranda added in 1941. The Conservancy holds an easement protecting the home's historic façade. It is one of two easements held by the Conservancy in Whitley Heights, along with a residence on Milner Road.
Posted: Thursday, July 13th, 2017 by Gaelyn Whitley Keith
Since announcing our Anniversary Celebration, we have learned of more anniversaries! The Hollywood Chamber will recognize more milestones at a star-studded evening celebration which will include food, drinksand historic photos on display. Although we are still working on the date and location for the event, we do have these reasons to celebrate:
• HJ Whitley named Hollywood 130 years ago
• Hollywood Bowl opened 95 years ago
• Hollywood Roosevelt Hotel opened 90 years ago
• The Montalblan Theatre opened 90 years ago
• TCL Chinese Theatre opened 90 years ago
• IATSE Local 706 is created 85 years ago
• Fanicifull Gift Baskets opened 30 years ago
• Musicians Institute opened in Hollywood 40 years ago
• Belmont Village opened 15 years ago
• Jackie "Pink Lady" Goldberg was a pink newborn 85 years ago
• Ana Martinez started handling the stars 30 years ago
• Leron Gubler took the helm of the Hollywood Chamber 25 years ago
• Vivian Kish started with the Chamber 20 years ago
• And Vin di Bona got his star on the Walk of Fame 10 years ago and will help us Emcee the event!
Help us add to the list by sending us your epic anniversary date and we will announce it in the next update! Please contact
This email address is being protected from spambots. You need JavaScript enabled to view it.

for information on sponsorship and/or if you are celebrating a milestone anniversary this year!
The Chamber issued a request for proposals for

new holiday decorations

on Hollywood Blvd. The Chamber is considering ways to bring back decorations to the famous boulevard.
Posted: Tuesday, July 18th, 2017 by Gaelyn Whitley Keith
WALKING TOUR OF HOLLYWOOD BOULEVARD!
What was it like to witness Hollywood's transformation from a tiny suburb of Los Angeles to the glamorous film capital of the world? On this tour, you will learn the history of Hollywood from around 1885-1960, and have a chance to peek inside some of the hidden gems on the boulevard.
Join us to learn the story of how Hollywood transformed from a sleepy little town of orange groves into the center of the world's entertainment industry...in less than 50 years! Take a walk back in time to visit the homes, shops, theaters, offices and restaurants that define Hollywood's historic identity.
You'll visit the oldest residential home on Hollywood Boulevard, visit a theater that hosted star-studded premieres during Hollywood's golden age, and sip a drink where Charlie Chaplin and Douglas Fairbanks unwound after a long day of filming, and where writers like F. Scott Fitzgerald and Ernest Hemingway wrote classic American novels.
Our destinations include:
Hollywood's first and most famous movie theaters

The oldest remaining residence on the Boulevard

The longest continuously-operating restaurant in Hollywood

Architecturally iconic buildings

Hollywood's premiere shopping district during its Golden Age
Along the way you'll see how the story of Hollywood is still unfolding as the modern-day artists and creatives continue to reinvent their neighborhood while honoring its storied past.
Saturday, July 22 at 10:00 a.m.
(tickets available now)
Friday, July 28 at 10:00 a.m. (tickets available now)

Saturday, August 5 at 10:00 a.m. (tickets available now)

Friday, August 11 at 10:00 a.m. (tickets available now)

Friday, September 29 at 10:00 a.m.
For more information, click HERE
To purchase tickets, click HERE
For BID Activities Calendar, click HERE
A Program of the Hollywood Business Owners Alliance
Posted: Wednesday, June 7th, 2017 by Gaelyn Whitley Keith
The Chamber's Hollywood Anniversary Celebration is starting to grow! In addition to H J Whitley (it is 130 years ago on October 28, 1886 that Hollywood got its name), Leron Gubler, Hollywood Bowl, and TCL Chinese Theatre, all celebrating anniversaries this year, we also have the 90th Anniversary of the Hollywood Roosevelt Hotel, the 85th anniversary of The Make-up Artists and Hair Stylists Guild, IATSE Local 706, and the 30th anniversary of Ana Martinez ("Stargirl") handling the stars on the Walk of Fame! Our celebration in September will be oozing with decades of Hollywood history, and we want YOU to be a part of it! Please let us know if your business is celebrating a milestone anniversary in 2017. We will recognize our members in the weeks leading up to the event in the September. The date and location are TBA, however we know it will be a star-studded evening celebration with food, drinks, media, and historic photos on display. Please contact
This email address is being protected from spambots. You need JavaScript enabled to view it.

for information on sponsorship and/or if you are celebrating a milestone anniversary this year!