Hollywood Blog
Posted: Tuesday, August 21st, 2018 by Gaelyn Whitley Keith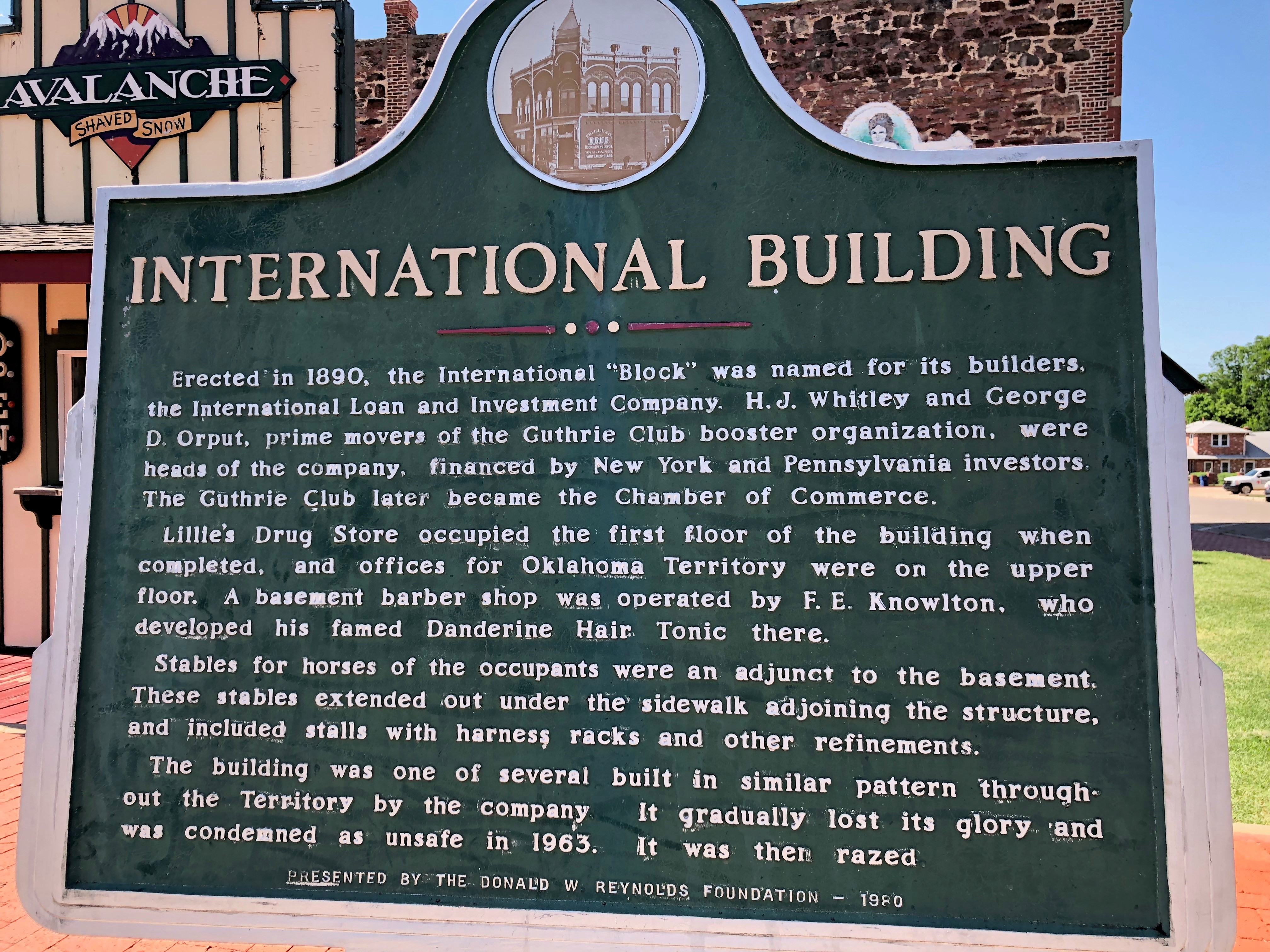 Gigi Whitley 1880's Memoir:
And this is what the Oklahoma Illustrated History says about HJ Whitley.
Oklahoma and especially Guthrie owes Mr. Whitley a heavy debt of gratitude for the ceaseless and untiring energy he has put forth in their behalf.  From the first day of his entering the territory, he has labored enthusiastically and in every possible way for the advancement of their interest.  He went to Oklahoma the day of the opening and built the first brick block building in the territory.  HJ was appointed by the Governor and made chairman of the Formal School Commission.  After that on account of his railroad experience with the Rock Island he was made the Washington Trustee and Treasurer of the Indian Allotment which controlled towns along the Rock Island.  Indeed there is not a single enterprise looking to the good and advancement of Guthrie with which HJ Whitley has not been identified and to which he has not rendered a powerful aid that has chiefly made them successful.  Many of the finest buildings in the city bear witness to his zeal and generous assistance.  All identify his name with the development of Guthrie.   Mr. Whitley was born in Toronto, Canada.  His father was the son of the Honorable Nicholas Whitley of Liverpool, England and his mother was the daughter of Coronal William Johnstone, an officer in the English army.   He received a practical business education.  In his early business training was a partner in a wholesale house of Whitley Partridge & Co.  In 1880 he engaged largely in banking and loan and investment business at Minneapolis, Michigan where he remained for ten years and still has large property interest.  In 1889 April 22nd he located in Guthrie and in company with Mr. George Orpant  built the first brick block in the territory know as the National Bank which they afterwards sold to McNeal & Little. In this position he knew about all of the prominent men in the Territory both democrats and republican alike.  HJ Whitley,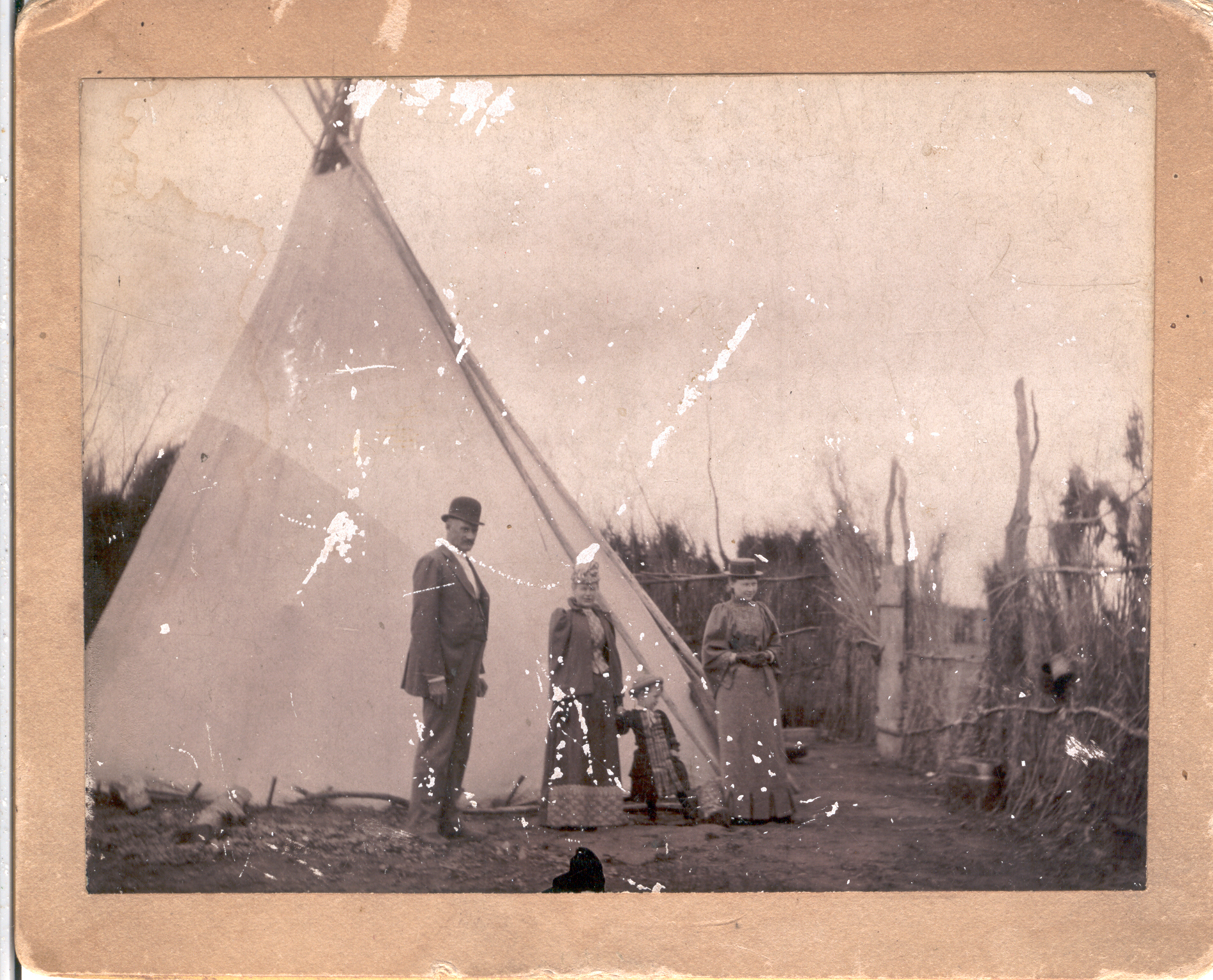 HJ Whitley, Gigi Whitley and Ross Whitley in Guthrie Oklahoma in 1889.
Posted: Tuesday, July 10th, 2018 by Gaelyn Whitley Keith
Over the years I have been speaking to audiances around the world on televison, radio talk shows, newspaper interview and at Hollywood Academy Award functions. Many times I have been asked, "How did Hollywood got its name?"  To start with I am going to share with you the way my great-grandmother wrote it in her handwriten memoirs.  While on their honeymoon in 1886 they rode horses out to the foothills of the Cahuega Valley. They dismounted near the top of the hill to look at the view of the entire valley.  Along came a Chinese man riding in a wagon.  He stopped, got out of the wagon and politely bowed.  HJ Whitley asked him what he had been doing.  The man said in broken English, "Up early. Work hard. Hauly wood."  The man's was hauling wood.  With that HJ had an epiphany.  He decided to name the new town he planned to build there Hollywood.  Holly would represent his British roots and Wood his Scottish ancestry.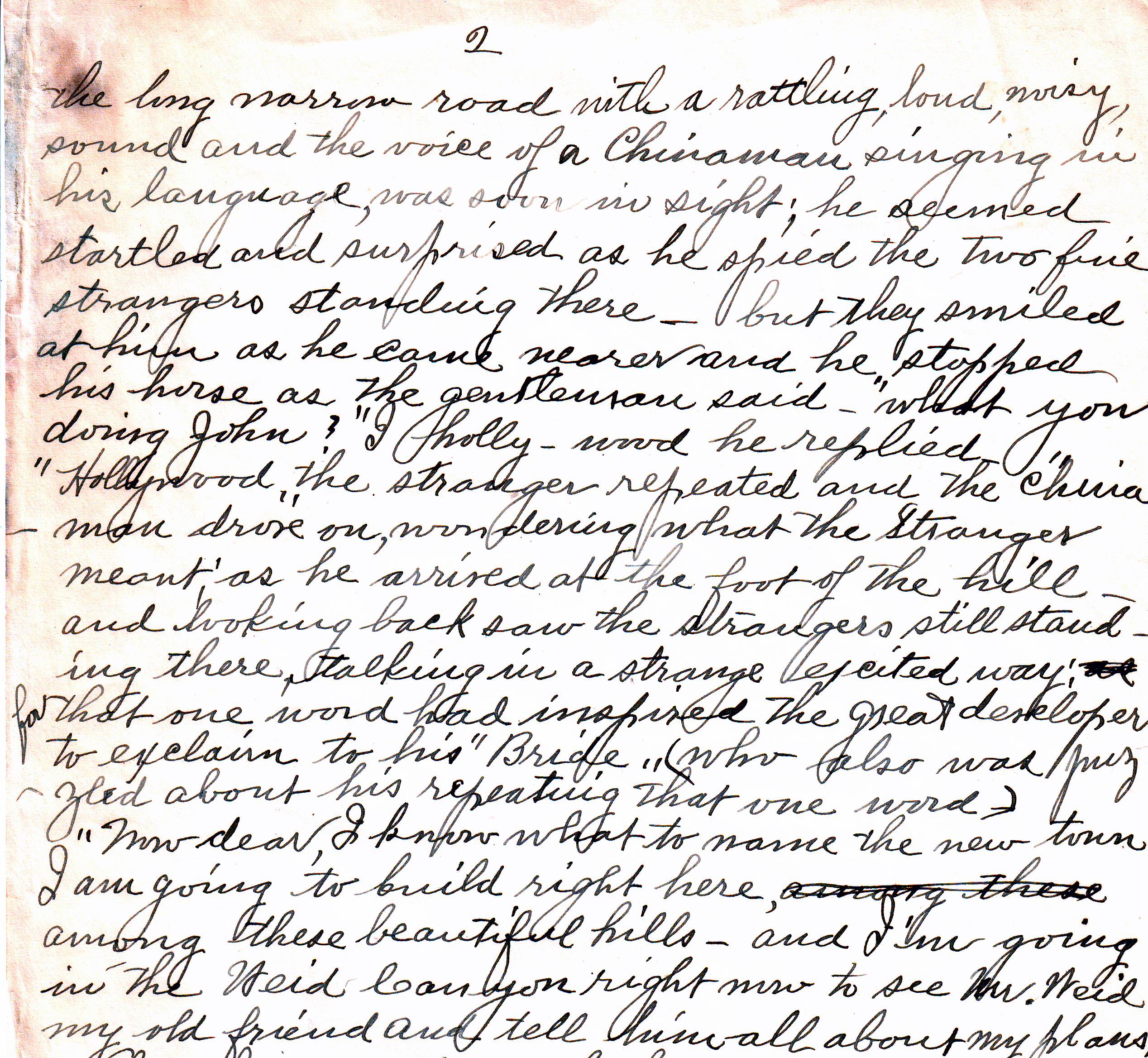 The next day he road back to Hollywood (Cahuenga) and obtained a verbal contract to buy the four hundred eighty (480) acres from Mr. Hurd.

 

A handshake was used to finalize the deal.

 

A picture of the tract of land (subdivision map) that was purchase is below.

 

The center of the land is Highland and Hollywood Boulevard.

 

The square on the bottom right is where the Whitley Estate was located and the location where the first Hollywood Studio filmed on October 26, 1911.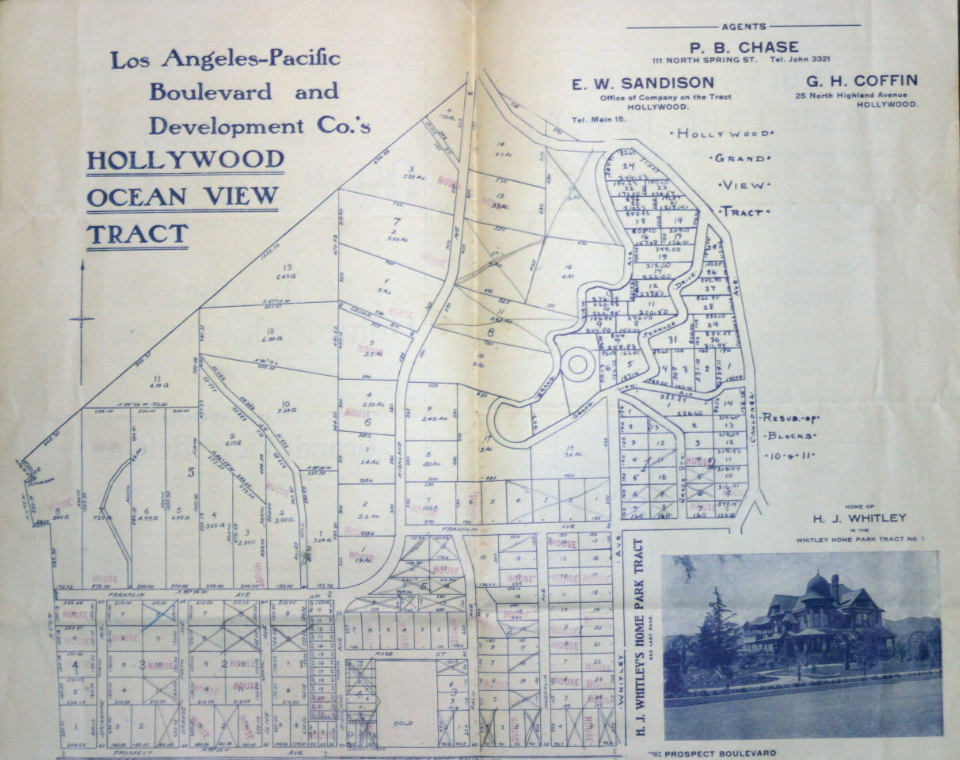 After securing the land HJ visited with a friend Ivar Weid.

 

He told Ivar of his plans to build a town named Hollywood.
 

Ivar Weid then told his neighbors Daeida and Harvey Wilcox of Whitley's plan.

 

Harvey Wilcox purchased his land February 1, 1887.  Below is a copy of the deed recorded with the Los Angeles County Recorder's Office.  As you can see at that time there was no mention of the name Hollywood.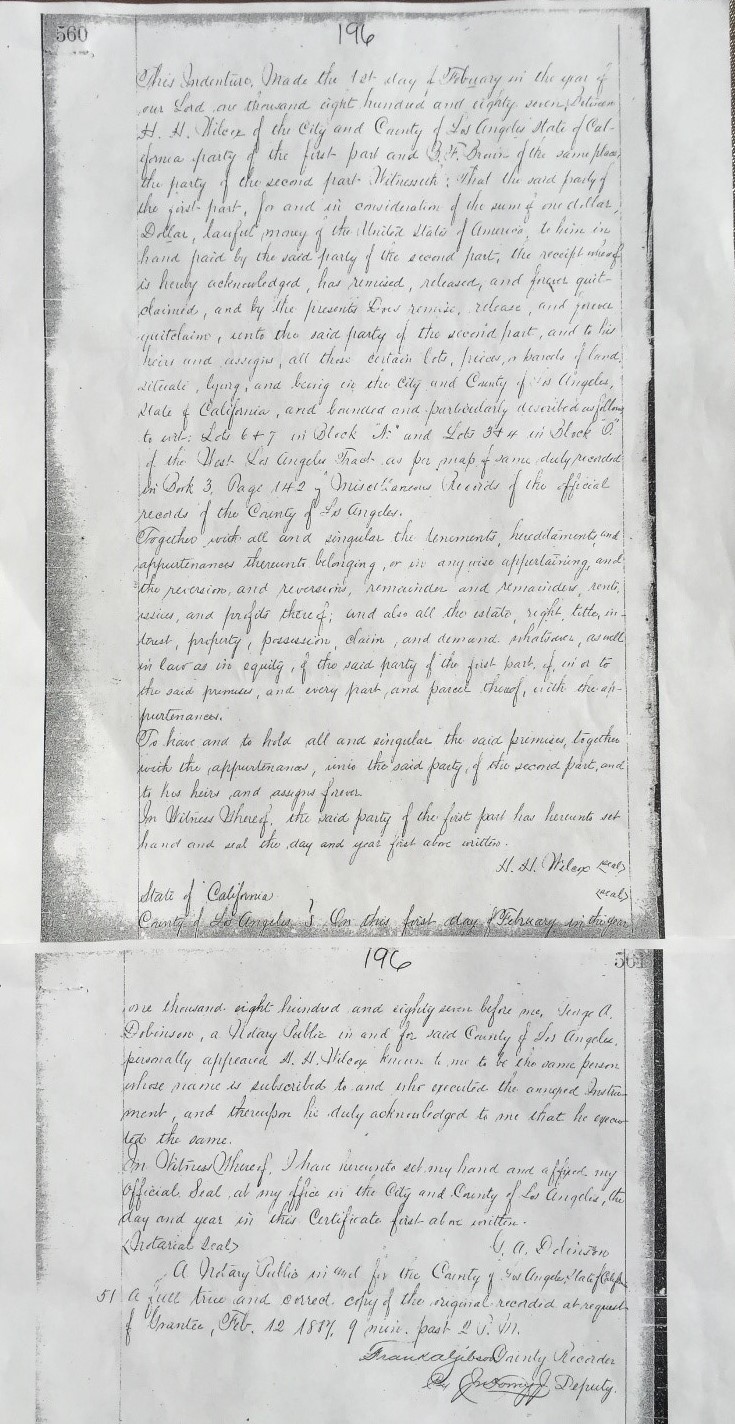 Many people have been confused by an advertisement printed by the Los Angeles Litho Company which was produced at a later date and not filed with the Los Angeles County Recorder's Office.  It was added to a pamphlet given away by the bank that Daeida Wilcox second husband owned. It is not what a deed or subdivision map looks like. You can see the deed above or check it out for yourself at the Los Angeles County Recorders Office.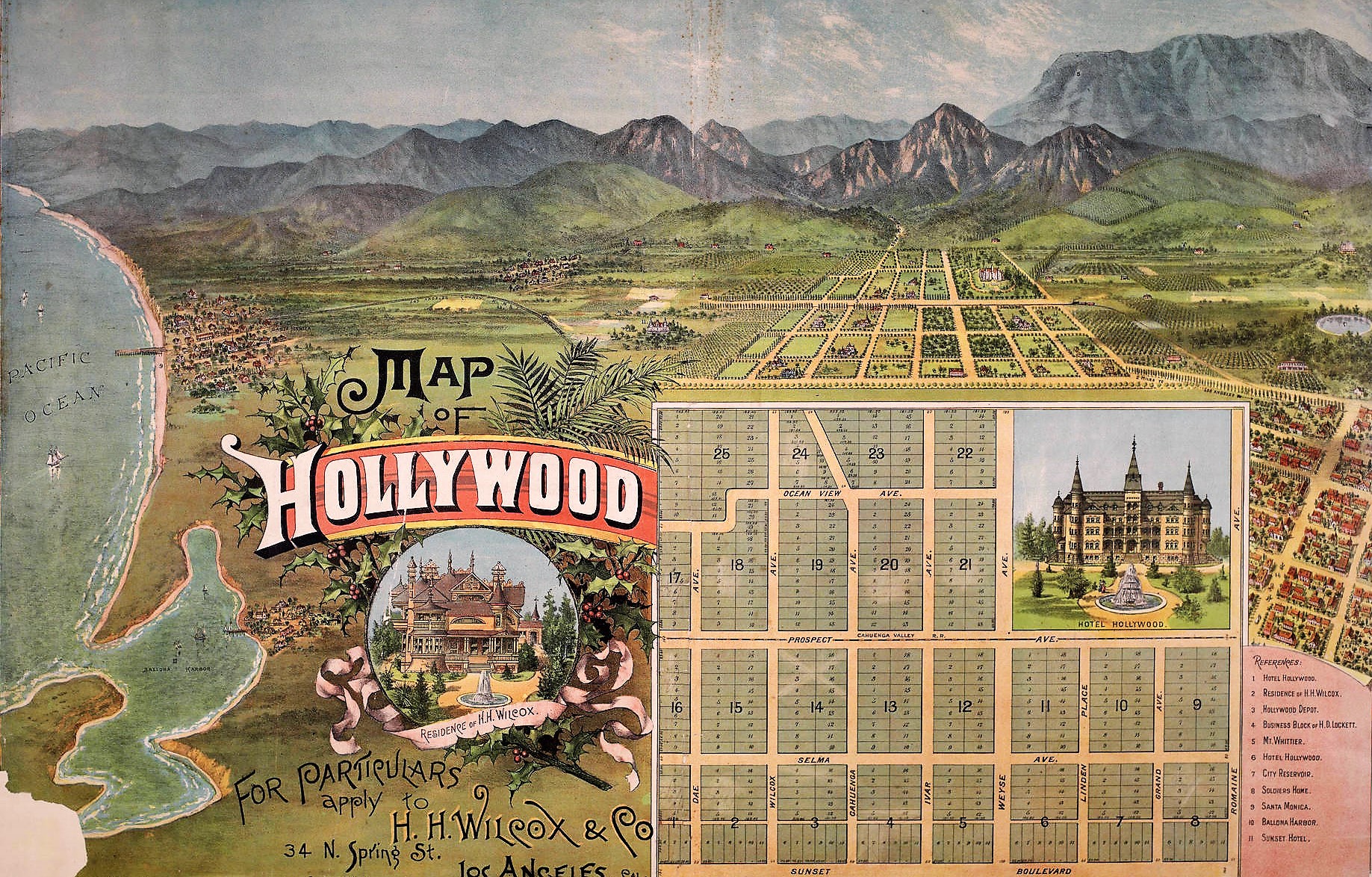 Over the years I have heard a variety of stories of how Daeida Wilcox named the town.  I would like to share them with you. 
Here is a story I received in an email from one of Harvey Henderson's relatives:
From:                              RICHARD WARREN WELCH
Sent:                               Friday, February 08, 2013 2:53 PM    
Subject:                          Founding of Hollywood 

Hi. Sorry for not getting back to you, but this has been a crazy week and I fear that things will get crazier next week, so I'll try to answer a couple of your questions now before I get buried. The story is that Daieida was on a train either returning home to Hicksville, Ohio or coming back to California after visiting relatives and she supposedly met a woman from Scotland who mentioned the name "Hollywood" as her supposed home. That's doubtful because the Scottish name would not be Hollywood, but Holywood, which is a village in Dumfriesshires and even if it was the name of a home, even that would probably have been called Holywood. Holly grows wild in Scotland, but I have serious doubts that holly wood would be considered the proper name for a home or a village.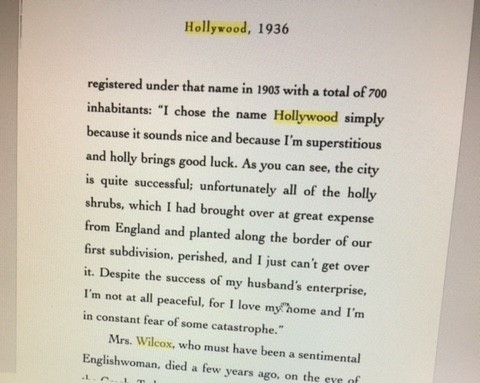 Above is another story that comes from a book named Hollywood from 1936. That might be why the Hollywood Bowl had a sign with holly berries on it.
 
Another claim is that Daeida happened to meet a stranger on a train who lived in an Illinois estate called 'Hollywood,' and that was where she got the idea for the name. The Hollywood subdivision dates back to 1893.  Samuel Gross, who marketed lots to Columbian Exposition visitors, developed it.  The original subdivision was in the area south of Washington Avenue.  It appears that the date from this encounter was a little late for Daeida to have used in 1887.The tract north of Washington was owned by Edith Rockefeller McCormick, a gift from her father, John D. Rockefeller, upon her marriage to Harold F. McCormick. 
A new story has come to light. It was the name given by the wife of founder Horace H. Wilcox who named it after the "Mass of the Holy Wood of the Cross" said by Father Junipero Serra near the site.  Los Angeles County Place Names Meanings & Origins

Below is a disclaimer written in the front of the book "Hollywood History" by Edwin O Palmer, Edwin O Palmer Publisher 1936. Unfornately much of his misinformation was counted as a reliable source by authors who published in the 1950's onward.





The following letter addresses issues that HJ Whitley had with Doctor Palmer an employee of Mrs. Wilcox. He was concerned that history was being incorrectly recorded.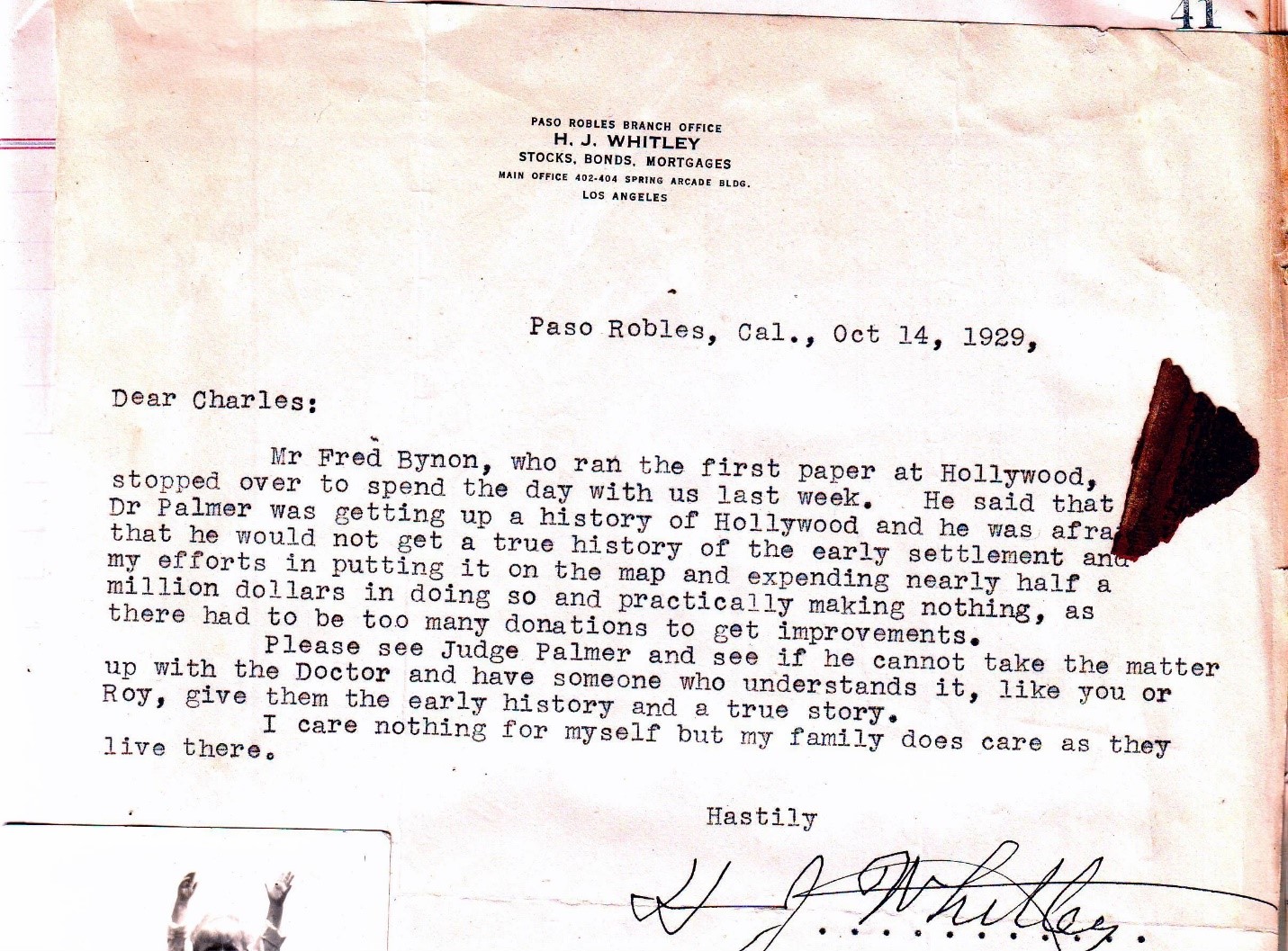 The truth is, H J Whitley named Hollywood in 1886.  
Posted: Tuesday, September 12th, 2017 by Gaelyn Whitley Keith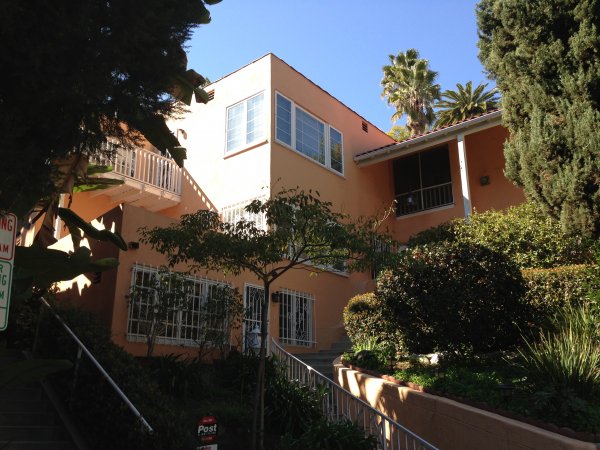 Photo by Flora Chou/L.A. Conservancy
Holly Hill Terrace Residence
Located in one of Hollywood's most historic residential neighborhoods, plans for the development included height restrictions to guarantee that every home retained a view of the city below. This residence is located in one of Hollywood's most historic residential neighborhoods, Whitley Heights. Whitley Heights was the last project of developer H. J. Whitley. He developed the area from 1918 to 1928 as an upper-middle-class, single-family residential neighborhood designed to resemble a Mediterranean hillside village. The concept of a hillside development was new to Los Angeles at the time, and the plans included graded roads, retaining walls, and flights of pedestrian steps. Height restrictions guaranteed that every home retained a view of the city below, and architectural design guidelines ensured that the neighborhood homes maintained the appearance of Mediterranean-style villas. This house on Holly Hill Terrace is designed in the Mediterranean style, featuring an L-shape plan that follows the unique configuration of the lot and an exterior clad in smooth-finished stucco. Over the years, this home has remained largely intact, with the exception of a two-story veranda added in 1941. The Conservancy holds an easement protecting the home's historic façade. It is one of two easements held by the Conservancy in Whitley Heights, along with a residence on Milner Road.
Posted: Saturday, September 16th, 2017 by Gaelyn Whitley Keith
"Col. Griffith lips parted, and from beneath his heavy, well waxed mustache issued salutation and words of praise for the indomitable courage, indefatigable effort and patriotic spirit of Mr. Whitley, whose record of town building along the Northern Pacific Railway and the great territory of Oklahoma made him a national benefactor. Congratulating Hollywood upon possessing such a citizen, Col Griffith then folded up and pocketed his notes and was seated.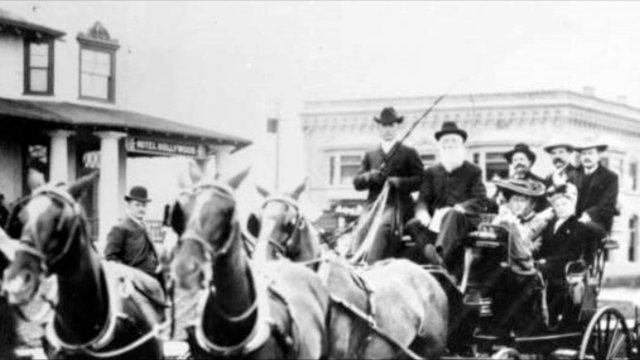 H J Whitley standing under the Hotel Hollywood sign to meet his guests.
"Whitley! Whitley!" from all sides, brought Mr. H. J. Whitley reluctantly to his feet, his large, smooth face radiant with blushes for the Col. Griffith's compliments, and looking extremely young for his six feet two and broad square shoulders. Mr. Whitley chided the genial Colonel for protesting too much and again made clear that the Colonel's great gift and other benefactions made him the outstanding citizen of Southern California; and then explained no one could accomplish great things unless environed by the cooperative spirit of "such great men as we have with us tonight, when all things are possible. As Mr. Whitley took his seat, General Sherman was called for, and removing his arm from the back of Mr. Sandison's chair, he raised his portly person to state that his speech of the evening might be summed up in five words; and with a sweeping gesture that encompassed both ends of the table he said: "Behold what God hath wrought" and resumed his seat. Mr. DeLongpre was introduced and complimented Mr. Whitley."
Reference: History of Hollywood by Edwin O Palmer page 116 (1938)
Posted: Tuesday, July 18th, 2017 by Gaelyn Whitley Keith
WALKING TOUR OF HOLLYWOOD BOULEVARD!
What was it like to witness Hollywood's transformation from a tiny suburb of Los Angeles to the glamorous film capital of the world? On this tour, you will learn the history of Hollywood from around 1885-1960, and have a chance to peek inside some of the hidden gems on the boulevard.
Join us to learn the story of how Hollywood transformed from a sleepy little town of orange groves into the center of the world's entertainment industry...in less than 50 years! Take a walk back in time to visit the homes, shops, theaters, offices and restaurants that define Hollywood's historic identity.
You'll visit the oldest residential home on Hollywood Boulevard, visit a theater that hosted star-studded premieres during Hollywood's golden age, and sip a drink where Charlie Chaplin and Douglas Fairbanks unwound after a long day of filming, and where writers like F. Scott Fitzgerald and Ernest Hemingway wrote classic American novels.
Our destinations include:
Hollywood's first and most famous movie theaters

The oldest remaining residence on the Boulevard

The longest continuously-operating restaurant in Hollywood

Architecturally iconic buildings

Hollywood's premiere shopping district during its Golden Age
Along the way you'll see how the story of Hollywood is still unfolding as the modern-day artists and creatives continue to reinvent their neighborhood while honoring its storied past.
Saturday, July 22 at 10:00 a.m.
(tickets available now)
Friday, July 28 at 10:00 a.m. (tickets available now)

Saturday, August 5 at 10:00 a.m. (tickets available now)

Friday, August 11 at 10:00 a.m. (tickets available now)

Friday, September 29 at 10:00 a.m.
For more information, click HERE
To purchase tickets, click HERE
For BID Activities Calendar, click HERE
A Program of the Hollywood Business Owners Alliance