Hollywood Blog
Posted: Wednesday, January 4th, 2023 by Gaelyn Whitley Keith
Whitley Heights, located on a prominent hill overlooking Hollywood and now generally bounded by Franklin and Highland Avenues and U.S. 101. It was shaped and styled in the late 1910's and early 20's by Hobart J. Whitley, one of the region's earlier real estate moguls who had become a major booster of the Mediterranean look.
For a time in the late 20's before they began flocking to Beverly Hills Whitley Heights was a favorite roost of film stars, including Rudolph Valentino, Francis X Bushman and Marie Dressler and was the scene of some fabled parties. Among those who later had homes there wer Gloria Swanson, Bette davis and Tyrone Power.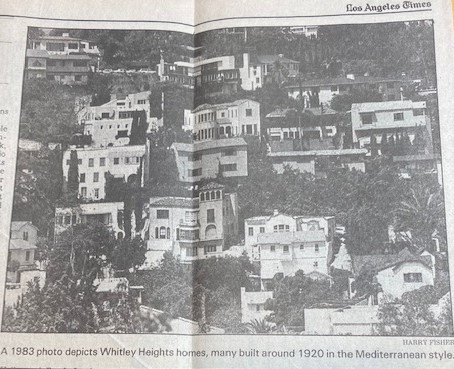 The result is that Whitley Heights is styled very much in the spirit of a hil town, albeit a wealthy private one, with winding narrow streets edged by proud stucco, structures decorated with glazed tile and ironwork. So pedestrians do not have to compete with cars, select streets are connected by public stairs that rise up the lush hillside.
Los Angeles Times May 21, 1988 by Sam Hall Kaplan
Posted: Thursday, October 20th, 2022 by Gaelyn Whitley Keith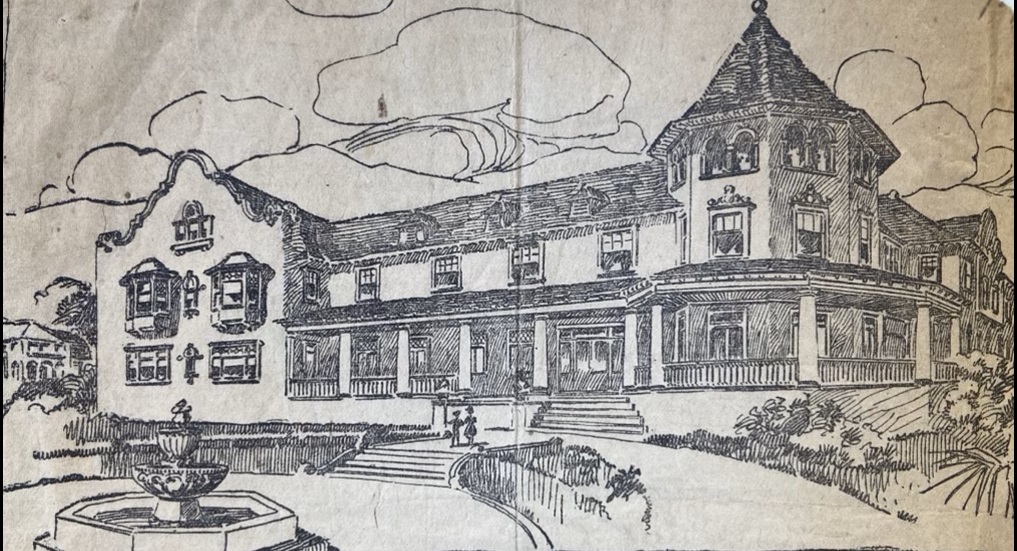 Drawing from an article: Charming Hollywood December 18,1902
Beautiful Hollywood
Mr. Whitley was the central figure, the moving force that accomplished results. Having known him intimately for 16 years, and what he has acomplished in other fields, his achievements in Hollywood are really no surprise to us.
Has it required much money to carry on this great work? Yes, a barrel of it. but in Mr. Whitley's understanding there is no "cheese-paring" or counting of cost.
He has paid out many thousands of dollars for electric lighting the street of Hollywood, and recently, at great expense installed the first switch to light Wilcox avenue by the incandescent plan - a light suspended from each pole, to prove the utility and striking dffect. It makes a pretty scene. Now, Prospect avenue for several blocks west is illuminated in the ame manner and is evoking great praise.
It would be a great card if the entire town could be illuminated in the ame manner - a fairy-land in the foothills.
Article in the Westen Graphic by A. A. Bynon April 27th 1903
Posted: Sunday, June 5th, 2022 by Gaelyn Whitley Keith
Banking and mortgage loans has been Mr. Whitley's business all his life and in most of the towns he has built, banks were established with him as officer of director in each. He is at the present time interested in several banks, being an officer in four and vice-president of the Home Savings Bank of Los Angeles.
Twenty-eight years ago, a Bismark Dakota payer ran an article headed "Whitley the Banker." It went on to say "It will be pleasing to the many friends of Mr. H. J. Whitley to learn that he is becoming one of the greatest bankers in the Northwest. He is here for the purpose of engaging in the same business, being a young man of means and a firm believer in Dakota and one of her best workers."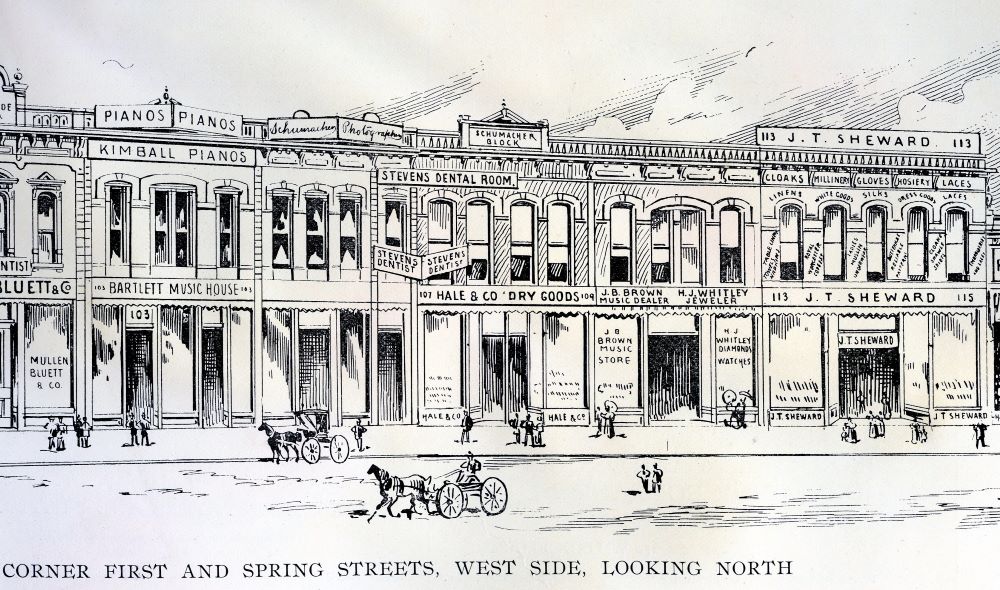 Mr. Whitley organized the bank of Hollywood, now the First National and the lots he gave for the bank building were sold at a large profit, thus creating a fine surplus for the institution. In addition to banking he owned the H J Whitley Jewelers in Los Angeles.
Posted: Thursday, August 4th, 2022 by Gaelyn Whitley Keith
One of the few homes that narrowly missed the Hollywood Freeway's path was 2307 Cahuenga, the former residence of western star J. Warren Kerrigan. Built in 1917, the L-shaped beauty was his dream home. "I think it is so restful in this sunny land, don't you?" he gushed in an interview at the time.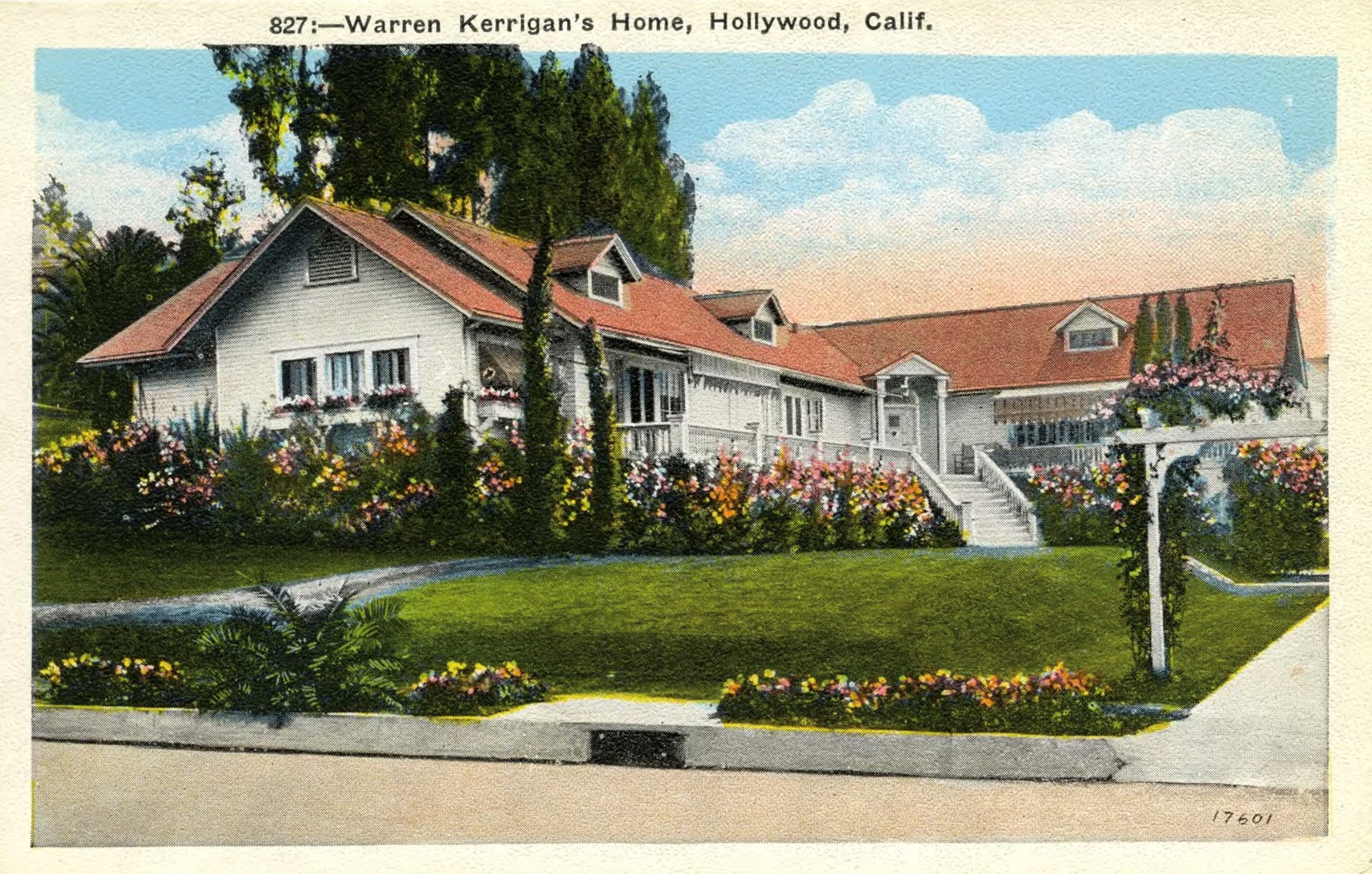 For three decades, Kerrigan lived here—just around the corner from Gene Autry on Whitley Terrace—with his mother Sarah, manager of the Mary Pickford Company (pictured together on their porch).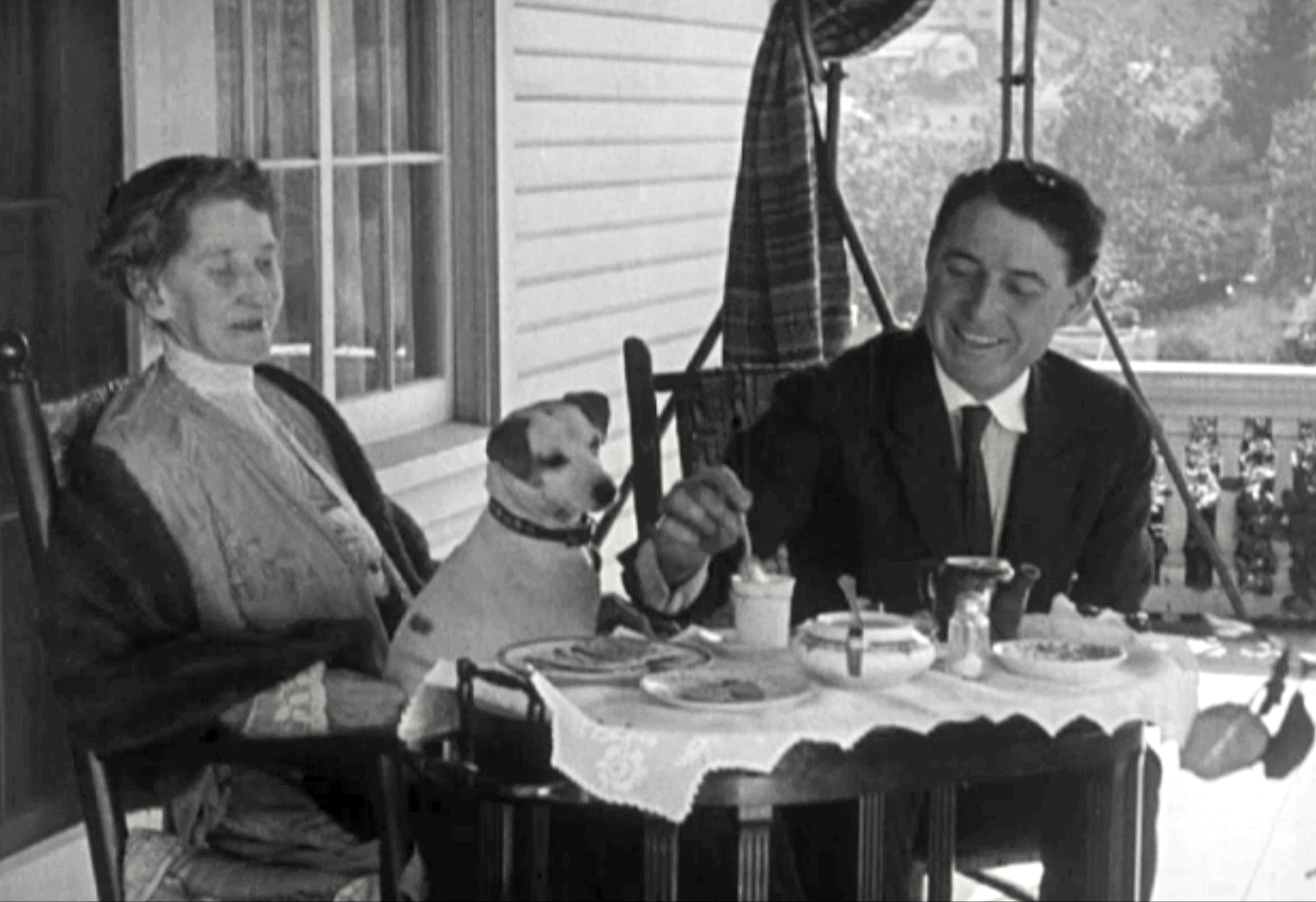 Following his 1947 death, new owners moved in and honored the actor with a portrait from his 1923 film The Covered Wagon in the living room. They also did light renovations, which Mrs. William Francis felt displeased Kerrigan in the afterlife. "Sometimes there is…a swishing noise," she said in 1957. "We make a joke of it. We say it's Kerrigan's ghost. We don't really believe it. That would be foolish...perhaps it's only an echo from the freeway."
Credit article from Whitley Heights News 2022
Posted: Sunday, June 5th, 2022 by Gaelyn Whitley Keith
H. J. Whitley's Hollywood holdings amounted to 480 acres and the good roads, boulevards, electric lines and the roads through Cahuenga Pass and Laurel Canyon are largely his work.
Hollywood with all its beautiful features having been created, H. J. Whitley turned his eyes to the great San Joaquin Valley. Here again he associated with him a number of businessmen of the first magnitude to march by his side. A tract of 45,000 acres were secured, where at a rub of the Aladdin lamp, Corcoran sprang into being. The new city had its bank, schools, hotel and other industries of a prosperous community, developing into one of the greatest dairying and cotton sections, largely though Whitley's efforts.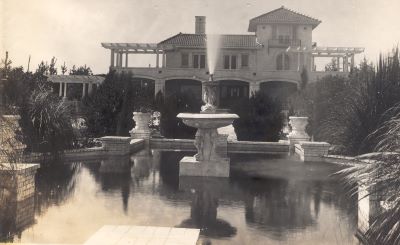 Whitley San Fernando Valley Home
Corcoran being created, Whitley next undertook a notable development project in the San Fernando ago, and take a spin along Sherman Way, one of the finest boulevards in the world, take a run through the subordinate systems of boulevards and make a survey of the electric line now building. If anything, more astonishing has ever been created within twelve months out of the raw, it would be difficult to name it. Over five million dollars' worth of property has already been sold off this tract and Mr. Whitley's general management has resulted in the greatest development anywhere in the United States or perhaps in the world. Mr. Whitley has 80 acres in his home living rooms, dens, billiard parlor and library. The grounds will be made beautiful by the most expert landscape gardener. With such a country house and the hill home in Hollywood, even H. J. Whitley might be satisfied.
Part Two Annual Progress Edition of the Hollywood Citizen page 28