Hollywood Blog
Posted: Sunday, June 5th, 2022 by Gaelyn Whitley Keith
H. J. Whitley's Hollywood holdings amounted to 480 acres and the good roads, boulevards, electric lines and the roads through Cahuenga Pass and Laurel Canyon are largely his work.
Hollywood with all its beautiful features having been created, H. J. Whitley turned his eyes to the great San Joaquin Valley. Here again he associated with him a number of businessmen of the first magnitude to march by his side. A tract of 45,000 acres were secured, where at a rub of the Aladdin lamp, Corcoran sprang into being. The new city had its bank, schools, hotel and other industries of a prosperous community, developing into one of the greatest dairying and cotton sections, largely though Whitley's efforts.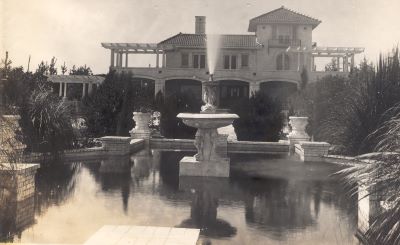 Whitley San Fernando Valley Home
Corcoran being created, Whitley next undertook a notable development project in the San Fernando ago, and take a spin along Sherman Way, one of the finest boulevards in the world, take a run through the subordinate systems of boulevards and make a survey of the electric line now building. If anything, more astonishing has ever been created within twelve months out of the raw, it would be difficult to name it. Over five million dollars' worth of property has already been sold off this tract and Mr. Whitley's general management has resulted in the greatest development anywhere in the United States or perhaps in the world. Mr. Whitley has 80 acres in his home living rooms, dens, billiard parlor and library. The grounds will be made beautiful by the most expert landscape gardener. With such a country house and the hill home in Hollywood, even H. J. Whitley might be satisfied.
Part Two Annual Progress Edition of the Hollywood Citizen page 28
Posted: Thursday, June 2nd, 2022 by Gaelyn Whitley Keith
The Master Builder of Hollywood is Mr. H. J. Whitley, who has been likened to Aladdin and his lamp, for wherever he has appeared towns have sprung up as if by magic. There is a string of them from the Mississippi River to the Rocky Mountains along the Northern Pacific and along the Rock Island in Kansas, Texas and Oklahoma. He began operations in California in 1894.
The great premature boom in Los Angeles real estate had come and gone, leaving the country dotted over with moribund suburban undertakings. Hollywood was one of these. But it was just this failure, which has remained asleep for fourteen years that attracted the city builder. Whitley was always associated with big men and knew the value of such associations. When, therefore, he would resurrect Hollywood, knowing the task before him, he picked out a number of associates he knew could and would stand with him shoulder to shoulder. The practical management was, however, in the hands of Mr. Whitley. Through his efforts the waterworks were put in, and the electric works. He set himself to the creation of boulevards and induced Gen. Sherman and E. P. Clark to run an electric line out to Hollywood.
Picture below from the Hollywood Citizen is of the Whitley Homestead and First Hollywood Car on Hollywood Blvd and Whitley Ave.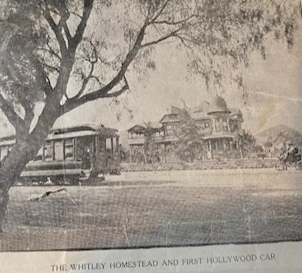 Whitley knows the truth of the adage, "To make money, you must spend money. At Hollywood he gave the reservoir sites and wells now worth $100,000, the original site for the Hollywood Hotel and the block on which the First National Bank stands. He spent large sums of money in opening up Sunset Boulevard. Wherever Whitley has been interested and any desirable improvement has lagged, he has been prompt to put his hand in his pocket and lend it the necessary financial aid. He is also a far sighted man. Some years ago, he gave a bonus of $5000 to have the electric railroad extended up Highland Avenue and through Cahuenga pass.
Part One Annual Progress Edition of the Hollywood Citizen page 28
Posted: Tuesday, April 19th, 2022 by Gaelyn Whitley Keith
Hollywood Heights formal block party celebrating its community spirit is held every August, the informal party is every day.
Climbing the hills northwest of Highland and Franklin avenues, the community's cluster of Mediterranean, Moorish and Modern style houses and apartments is one of those architectural enclaves in the varied landscape of Los Angeles that manages to be inclusive and welcoming.
Blossoming vines spill over stucco and concrete block walls lining twisting, turning streets; potted plants sit on window sills and terraces, and occasional tile work and individualistic doorways peek out from behind wrought-iron fences.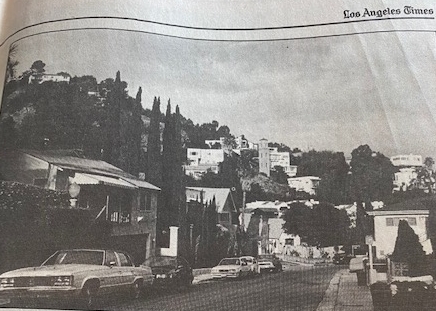 Then there are the hillsides laced with meandering public paths and stairways tunneling through profusions of wild vegetation and presenting, from raw crests and mélanges of balconies, breathtaking views of Hollywood and the city beyond.
The setting and a sprinkling of landmark structures, including singular houses by Frank Lloyd Wright and his son, Lloyd Wright, have lent themselves well to a strong neighborhood identity and spirit.
Hollywood Heights has needed this spirit, for like so many other communities in and around Los Angeles over the last few years it is involved in a continuing effort to keep its quality of life from being nibbled away by avaricious developers and insensitive bureaucrats.
These efforts have included fighting off a proposal for an out-of-scale and out-of-character housing complex on the site of a dated bungalow court by helping to get the court declared a landmark and get the county to assume responsibility for recycling.
Los Angeles Times January 24, 1987
Posted: Friday, April 29th, 2022 by Gaelyn Whitley Keith
In the 1920's Rudolph Valentino and Francis X. Bushman lived just across the street from each other in Whitley Heights, on the hill that rises above Highland and Franklin avenues. Looking at that narrow street today, it is hard to imagine those flamboyant egos sharing it -Valentino in a phaeton with his silver cobra emblem and Bushman in his lavender Rolls-Royce.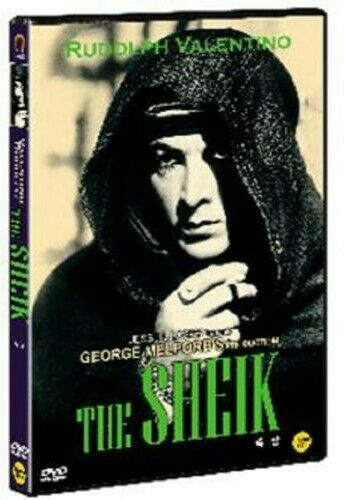 But with neighbors like theirs they might have gone unnoticed. Richard Barthelmess, who Lillian Gish described as "the most beautiful man who ever went before a camera," lived in a nearby villa where he was often visited, it was said by equally beautiful Norm Talmadge while she was still the wife of the powerful producer Joseph Schenck.
Read more: Whitley Heights: When Hollywood Living Was Really Good Old Days
Posted: Monday, April 11th, 2022 by Gaelyn Whitley Keith
Internationally famous Hollywood Hotel, on Hollywood Blvd. from Highland Ave to Orchid Street covers more than four acres of ground and has been the center of the civic and social life and the home of the stars for many years, from the beginning of the film industry in Hollywood, it is pointed out. Today there is probably no more widely know hotel name in the world. The widening of Highland Ave has prompted the development of eight modern shops as part of the east end.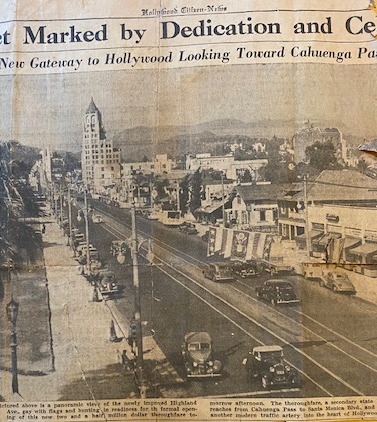 Pictured above is the panoramic view of the newly improved Highland Avenue, gay with flags and hunting in readiness for formal opening of the new two and a half million-dollar throughfare tomorrow afternoon. The thoroughfare, a secondary state highway reaches from Cahuenga Pass to Santa Monica Blvd and another modern traffic artery into the heart of Hollywood. Hollywood Citizen News