Hollywood Blog
Posted: Tuesday, March 22nd, 2022 by Gaelyn Whitley Keith
The Hollywood Forever Cemetery was designated a historic-cultural monument by the Los Angeles City Council Tuesday, March 22.2022, following a unanimous recommendation from the city's Cultural Heritage Commission. The cemetery was included in the National Register of Historic Places in 1999, the cemetery's 100th anniversary. On June 25, Councilman Mitch O'Farrell began the city's effort to include the cemetery on its own list of historic-cultural monuments. The Cultural Heritage Commission considered the property on Oct. 21 and recommended the City Council add it to the list.
Heather Goers, senior architectural historian of Historic Resources Group, spoke to the commission about the significance of the Hollywood Forever Cemetery before it voted to recommend the property's designation. She noted that the period of significance for the property spans from 1899, the cemetery's establishment, to 1941, when the Douglas Fairbanks Monument was erected. That monument was designed by Howard Seidell of the Georgia Marble Company and was erected two years after the actor's death.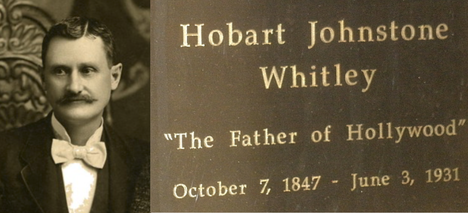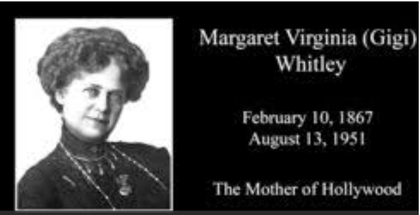 Character-defining structures include the Historic Colonnade where the Father of Hollywood, H. J. Whitley is buried. You can find him in the Colonnade, South Wall, near the West Entrance. The property — located at 6000 Santa Monica Blvd., between Van Ness Avenue and Gower Street — became a tourist destination due to high-profile and celebrity burials, which began as early as 1910, when the victims of the Los Angeles Times bombings were buried in the cemetery. Gigi Whitley(also located in the Colonnade) had a prophetic dream that saved the lives of her husband H. J. Whitley, Harry Chandler and H. G. Otis owners of the Los Angeles Times.
"We can talk about the buildings and structures and landscape features that make this property significant in terms of its development, but one of the things that is abundantly clear in researching this property and experiencing it is its intangible connection to the history of Hollywood … the fact that those burials were people who helped pioneer and develop Hollywood," Goers said.
Posted: Thursday, March 17th, 2022 by Gaelyn Whitley Keith
Mr. and Mrs. Hobart J. Whitley have just returned from a trip to New York where they spent several weeks. Their daughter, Mrs. Grace Whitley Widenham is in New York this season devoting her time to the study of art and music. The Whitleys have long been identified with the civic and social life of Los Angeles being among the pioneer residents of this city. Mr. Whitley years ago, purchased large tracts of land in Hollywood and expended a good-sized fortune in development, subdividing, etc.… For years the Hollywood mansion of the Whitleys was a show place, but it was moved away a few years ago to make room for a large structure, which now occupies the site of their former home. Their new home on Whitley Heights in Hollywood is a beautiful residence.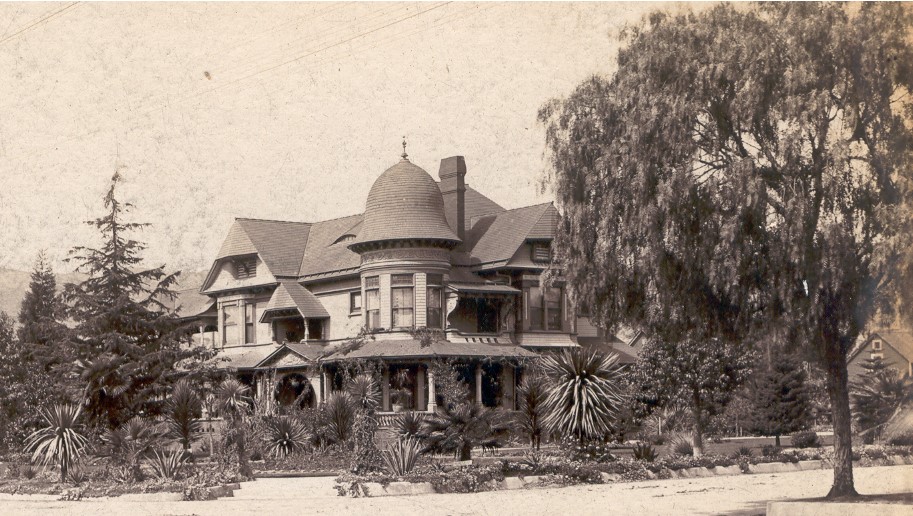 Whitley's home on Prospect Blvd 1899. (Now Hollywood Blvd,)
Herald Express
Wednesday, July 30, 1947
Posted: Saturday, February 19th, 2022 by Gaelyn Whitley Keith
Located southeast of the Hollywood Bowl, Whitley Heights occupies an irregular triangle of lush hilly terrain to the north of Franklin Avenue, east of Highland Avenue and west of Cahuenga Boulevard. The Hill's population in 1990 census was 2,200m the median age was 35.4 years.
After World War I, H. J. Whitley, a major land developer of the late 19th and early 20th centuries, wanted to re-create a Mediterranean hillside village and thought the concept was perfectly suited for adjoining parcels of land he had purchased.
Whitley's vision and enthusiasm were shared by architect Arthur Barnes. Financed by Whitley, Barnes toured the Mediterranean scaping before returning to design a majority of the homes built on "The Hill" between 1918 and 1928, In the late 1940's and again in the early 60's, construction and subsequent alterations of the Hollywood Freeway divided the original development, segregating about one-fifth of Whitley Heights, which now lies to the north of the freeway.
Renowned architecture and interiors photographer, Tim Street-Porter, and his writer/interior designer wife, Annie Kelly, live in Villa Vallombrosa. It is a 1920's masterpiece, perched above Watsonia Terrace in the historic Whitley Heights area of Los Angeles. It is a house that has enchanted movie stars (Greta Garbo), costume designers (Adrian), and Leonard Bernstein spent time there, too. It just could be the most romantic house in Hollywood.
"The Hollywood Freeway took 40 homes from Whitley Heights in the late 40's, including those of Valentino and Charlie Chaplin." said the late Brian Moore, the official local historian in an interview shortly before his death in May at age 58, In the early 60's, demolition for a Hollywood Museum that was never built claimed Bette Davis' first Hollywood house on Alta Loma Terrace.
The majority of homes in Whitley Heights, built before 1928, include many interior as well as exterior features never seen in Los Angeles before 1920, but copied extensively afterward, including the use of wrought iron, leaded glass windows and tiled roofs.
Los Angeles Times July 12, 1992
Posted: Monday, February 21st, 2022 by Gaelyn Whitley Keith
"The rap of L.A. is that it presumably has no past, and we're here to say that Whitley Heights is a very real part of L.A.'s past."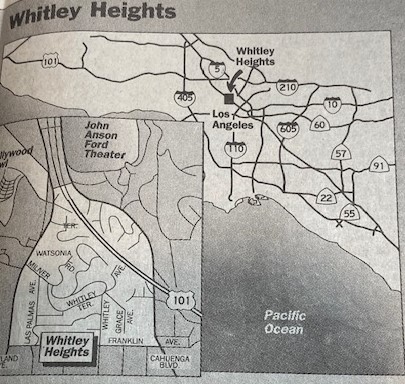 H. J. Whitley placed electrical lines and utilities in underground conduits, another novel concept for the times, as well as original street lamps, function as they did in the late 1920's. Preservation is taken seriously by Whitley Heights residents. "People up here have a sense of history outside themselves and feel they have an obligation to the future of the community," said resident Dave Heckman. A cameraman in the movie industry. Heckman has lived in Hollywood since the early 1970's and moved into Whitley Heights 10 years ago.
"The general range of prices in Whitley Heights in 1992 begins at between $275,000 to $290,000 for a 1000 square-foot home to one that recently sold for $920,000. That home had seven bedrooms and a ballroom and balcony that could accommodate a 40-piece orchestra – straight from the 20's," Sloane said.
Los Angeles Times July 12, 1992
Posted: Wednesday, February 16th, 2022 by Gaelyn Whitley Keith
The list of those who've lived in Whitley Heights reads like a Who's Who of Hollywood-silent screen star Francis X. Bushman, Rudolph Valentino, Gloria Swanson, Tyrone Power, Donald O'Connor, Rosalind Russell – to name only a few. Referred to simply as "The Hill" by residents and neighbors, the relative seclusion and convenience of Whitley Heights continues to attract members of the film and music industries even today.
"We moved to Whitley Heights three years ago after we'd fallen in love with its Mediterranean architecture," said Australian artist Kelly, "Its romantic history is a bonus, and the sense of community that we've found here is extraordinary."
"Our home was modeled after a villa on the Grand Canal in Venice and has always been known on the hill as Villa Vallambrosa. It was built in 1928 for a woman from the East Coast, who had arranged for architect Nathaniel Coleman to travel abroad to study Italian architecture."
Just under 3,000 square feet, the three-story home has a concave façade, five-sided filigreed balcony and an interior courtyard with original fireplace and fountain. "The 20-foot-high ceiling in the living room is typical of many homes in the area," said Kelly, who lives with her husband, British photographer and writer, Tim Street-Porter."
Los Angeles Times July 12, 1992