Hollywood Blog
Posted: Monday, February 21st, 2022 by Gaelyn Whitley Keith
"The rap of L.A. is that it presumably has no past, and we're here to say that Whitley Heights is a very real part of L.A.'s past."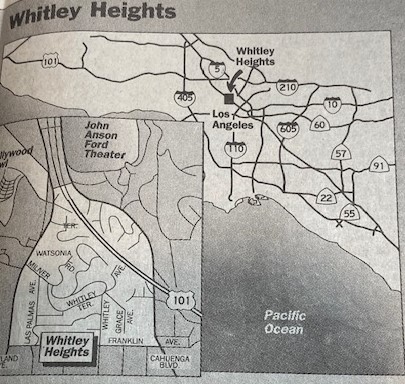 H. J. Whitley placed electrical lines and utilities in underground conduits, another novel concept for the times, as well as original street lamps, function as they did in the late 1920's. Preservation is taken seriously by Whitley Heights residents. "People up here have a sense of history outside themselves and feel they have an obligation to the future of the community," said resident Dave Heckman. A cameraman in the movie industry. Heckman has lived in Hollywood since the early 1970's and moved into Whitley Heights 10 years ago.
"The general range of prices in Whitley Heights in 1992 begins at between $275,000 to $290,000 for a 1000 square-foot home to one that recently sold for $920,000. That home had seven bedrooms and a ballroom and balcony that could accommodate a 40-piece orchestra – straight from the 20's," Sloane said.
Los Angeles Times July 12, 1992
Posted: Saturday, February 19th, 2022 by Gaelyn Whitley Keith
Located southeast of the Hollywood Bowl, Whitley Heights occupies an irregular triangle of lush hilly terrain to the north of Franklin Avenue, east of Highland Avenue and west of Cahuenga Boulevard. The Hill's population in 1990 census was 2,200m the median age was 35.4 years.
After World War I, H. J. Whitley, a major land developer of the late 19th and early 20th centuries, wanted to re-create a Mediterranean hillside village and thought the concept was perfectly suited for adjoining parcels of land he had purchased.
Whitley's vision and enthusiasm were shared by architect Arthur Barnes. Financed by Whitley, Barnes toured the Mediterranean scaping before returning to design a majority of the homes built on "The Hill" between 1918 and 1928, In the late 1940's and again in the early 60's, construction and subsequent alterations of the Hollywood Freeway divided the original development, segregating about one-fifth of Whitley Heights, which now lies to the north of the freeway.
Renowned architecture and interiors photographer, Tim Street-Porter, and his writer/interior designer wife, Annie Kelly, live in Villa Vallombrosa. It is a 1920's masterpiece, perched above Watsonia Terrace in the historic Whitley Heights area of Los Angeles. It is a house that has enchanted movie stars (Greta Garbo), costume designers (Adrian), and Leonard Bernstein spent time there, too. It just could be the most romantic house in Hollywood.
"The Hollywood Freeway took 40 homes from Whitley Heights in the late 40's, including those of Valentino and Charlie Chaplin." said the late Brian Moore, the official local historian in an interview shortly before his death in May at age 58, In the early 60's, demolition for a Hollywood Museum that was never built claimed Bette Davis' first Hollywood house on Alta Loma Terrace.
The majority of homes in Whitley Heights, built before 1928, include many interior as well as exterior features never seen in Los Angeles before 1920, but copied extensively afterward, including the use of wrought iron, leaded glass windows and tiled roofs.
Los Angeles Times July 12, 1992
Posted: Wednesday, February 9th, 2022 by Gaelyn Whitley Keith
H. J. whitley, pioneer California real estate man and known as the "Father of Hollywood." died yesterday at the age of 83 years and after an illness of more than a year. Mr. Whitley died during his sleep while staying as a guest of his son Ross Whitley at the Whitley Park Country Club in Van Nuys.
A long career as a real-estate broker started with Mr. Whitley's employment as a land agent for the Rock Island Raiload when he was sent into Oklahoma during the time of the opening of the Cherokee Strip. He held a similar post with the Great Northern Railroad and in 1894, when his health broke he came to California and first engaged in the jewelry business in Los Angeles.
FATHER OF HOLLYWOOD
His first development here was on a 400-acre tract in what is now Hollywood, which he turned from a district of vegetable gardens and farms into a valuable residential district. As the result of the success of the subdivision, one of the first in Hollywood, Mr. Whitley became known as the "Father of Hollywood."
During 1905 Mr. Whitley in company with a group of Los Angeles business men undertook the developemtn of 47,000 acres in the San Joaquin Valley and carried through a similar porject involving nearly 50,000 acres in the San Fernando Valley. Both districts are now covered with fertile farms.
Mr. Whitley continued his activity in Southern California property until 1922, when he completed the development of his Whitley Heights which was known as one of the first hillside subdivision in Hollywood. The opening of the tract in 1920 was the scene of a public barbecue, with city officials and businessmen men of the city as guests.
In addition to his work in real estate development, Mr. Whitley was known as one of the founders of the Home Savings Bank and was as well identified with the organization of the First National Bank of Van Nuys and State banks in Owensmouth (now Canoga Park) Reseda and Corcoran.
Mr. Whitley leaves his widow, Mrs. Margaret Whitley, who lives at the family residence, 6643 Whitley Terrace: his son, Ross E. Whitley of Van Nuys: a daughter, Grace Virginia Whitley, and three grandchildren.
Los Angeles Times June 4, 1931
Posted: Wednesday, February 16th, 2022 by Gaelyn Whitley Keith
The list of those who've lived in Whitley Heights reads like a Who's Who of Hollywood-silent screen star Francis X. Bushman, Rudolph Valentino, Gloria Swanson, Tyrone Power, Donald O'Connor, Rosalind Russell – to name only a few. Referred to simply as "The Hill" by residents and neighbors, the relative seclusion and convenience of Whitley Heights continues to attract members of the film and music industries even today.
"We moved to Whitley Heights three years ago after we'd fallen in love with its Mediterranean architecture," said Australian artist Kelly, "Its romantic history is a bonus, and the sense of community that we've found here is extraordinary."
"Our home was modeled after a villa on the Grand Canal in Venice and has always been known on the hill as Villa Vallambrosa. It was built in 1928 for a woman from the East Coast, who had arranged for architect Nathaniel Coleman to travel abroad to study Italian architecture."
Just under 3,000 square feet, the three-story home has a concave façade, five-sided filigreed balcony and an interior courtyard with original fireplace and fountain. "The 20-foot-high ceiling in the living room is typical of many homes in the area," said Kelly, who lives with her husband, British photographer and writer, Tim Street-Porter."
Los Angeles Times July 12, 1992
Posted: Monday, January 17th, 2022 by Gaelyn Whitley Keith
In order to attract the movie industry to Hollywood H. J. Whitley advertised it as the "American Mediterranean". The new Hollywood elite found Mediterranean-style houses with their simple, squared stucco walls and red-tile roofs the style of the future. Whitley Heights is styled very much in the spirit of a hill town, albeit a wealthy private one, with winding narrow streets edged by proud stucco structures docarated with glazed tile and ironwork. Pedestrians do not have to compete with cars, select streets are connected by public stairs that rise up the lush hillside.