The Hollywood Foreign Press Association & Hollywood Heritage Present:
LAUREL & HARDY: A 90TH ANNIVERSARY CELEBRATION, THE BIRTH OF A TEAM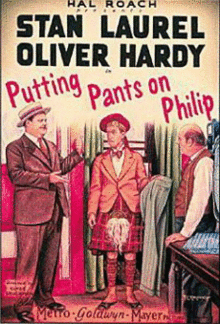 The year 1927 marks the "official" pairing of arguably the greatest motion picture comedy duo of the 20th century. Please join us at the Lasky-DeMille Barn on Wednesday, March 8th at 7:30PM to commemorate this happy occasion. Hollywood Heritage will be partnering with the Laurel & Hardy Hollywood Party Tent for a very special event: LAUREL & HARDY: A 90TH ANNIVERSARY CELEBRATION, THE BIRTH OF A TEAM. We have dusted off the archival films and motion picture projectors and will present several classic two reel treasures from Stan and Ollie's first year as partners at the fabled Hal Roach Studio.
Included will be their first "official" film release as a team, "Putting Pants On Philip", their army comedy, "With Love And Hisses" (screened from the finest amber tinted, archival print in existence), the All-Star Comedy, "Call Of The Cuckoo" featuring Max Davidson and Charley Chase and a special screening of the once lost and now recently discovered comedy classic, "The Battle Of The Century".

All films will be projected from archival prints (no digital projection) and will be accompanied by pianist and conductor Scott Lasky. In addition, author Randy Skretvedt will be on hand to discuss his wonderful book "Laurel and Hardy: The Magic Behind the Movies". Copies will be on sale in the gift shop as well. And be sure to bring your cameras and have your photo taken with our new wax sculptures of Laurel & Hardy!