Whitley Heights, located on a prominent hill overlooking Hollywood and now generally bounded by Franklin and Highland Avenues and U.S. 101. It was shaped and styled in the late 1910's and early 20's by Hobart J. Whitley, one of the region's earlier real estate moguls who had become a major booster of the Mediterranean look.
For a time in the late 20's before they began flocking to Beverly Hills Whitley Heights was a favorite roost of film stars, including Rudolph Valentino, Francis X Bushman and Marie Dressler and was the scene of some fabled parties. Among those who later had homes there wer Gloria Swanson, Bette davis and Tyrone Power.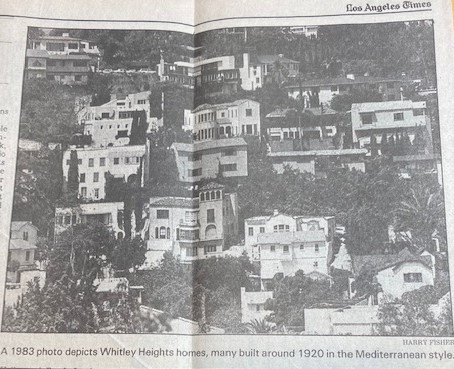 The result is that Whitley Heights is styled very much in the spirit of a hil town, albeit a wealthy private one, with winding narrow streets edged by proud stucco, structures decorated with glazed tile and ironwork. So pedestrians do not have to compete with cars, select streets are connected by public stairs that rise up the lush hillside.
Los Angeles Times May 21, 1988 by Sam Hall Kaplan